iPads used by court prosecutors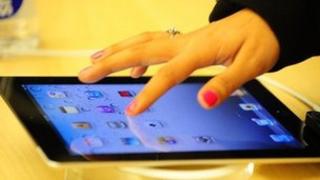 Prosecutors in some Scottish courts are using iPads as part of a pilot project aimed at reducing paperwork and improving data protection.
The tablets are being used in by fiscal deputes in selected sheriff court hearings in Falkirk, Perth and Lerwick.
A specially-designed app is being used by prosecutors to review and manage case documents electronically in court.
If successful, the scheme could be rolled out across the whole of Scotland later this year.
Announcing the pilot, Catherine Dyer, chief executive of the Crown Office and Procurator Fiscal Service, said it recognised the need for innovation and the use of new technologies in the court system.
She added: "This latest development follows on from previous successful initiatives using modern technology such as texting of witnesses.
"Prosecutors recognise the need to maximise our efficiency and reduce our carbon footprint.
"This pilot is expected to dramatically reduce the current need for huge amounts of paperwork, free up valuable staff time and further improve the security of our case information."
At this stage, it is only proposed that tablets devices will be used in the pleading diets and intermediate diets of summary cases. They will not be used in summary trials or any part of cases before a jury.
The cost of the pilot, including hardware, software and staff training, is said to be £310,000.
Following the pilot, an evaluation will be carried out with a view to a national roll out later in the year.