Doctor jobs 'revoked' after test error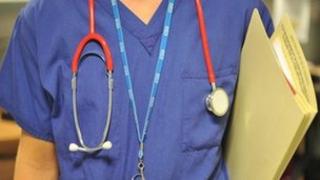 Medical graduates who had been offered positions have had their job offers revoked after mistakes were uncovered in the marking process for one of their exams.
The UK Foundation Programme Office (UKFPO) said it would have to re-mark one of the tests involved.
The process for electronically scanning the Situational Judgement Test (SJT) answer sheets was found to be flawed.
UKFPO said it may take until 8 March to compile the final results.
The problem affected all UK applicants who took part in Foundation Doctor training. The programme lasts two years and is a bridge between undergraduate medical training and specialists or general practice studies.
The exams were conducted in conjunction with the Medical Schools Council (MSC).
Medical students who contacted the BBC said they had their job offers "revoked" at 18:30 on Monday after the possible error was discovered.
'Unacceptable'
The problem is thought to affect 7,540 graduates across the UK.
The British Medical Association (BMA) demanded urgent action to resolve the uncertainty and called for an independent review of the application process.
Alice Rutter, co-chair of the BMA's medical students committee, said: "This is a completely unacceptable situation, especially as it appears that the UKFPO had early indications of problems with the application system yet decided not to halt the process of allocating students to their first job.
"It is important that the UKFPO gets a grip on this situation quickly.
"Given the levels of anxiety students will now be feeling, there can be no room for uncertainty about when they should expect advice about their revised offer.
"Some students would have already been making important decisions built around where their first job would have been, including signing rental leases for flat-shares."
Working to resolve
The UKFPO said in a statement it had "made the decision to manually re-mark all the affected answer sheets".
The UKFPO said that, as a consequence, some marks may rise and the computer algorithm that places graduates in suitable jobs may have to be run again.
"Please be assured that the decision to re-run the algorithm will not be taken lightly," added the statement.
"But if any discrepancy in scores is detected then it will be the fairest and most transparent way of ensuring that any applicants who received a lower mark because of this error are awarded the marks they deserve.
"The UKFPO and MSC do not underestimate the anxiety that this may cause and are working collaboratively to resolve this issue as quickly as possible."