Glasgow 2014: Irn Bru to return to original can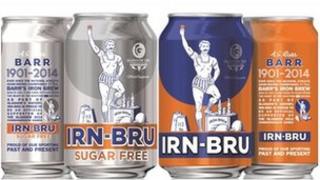 Scotland's "other" national drink is to return to its original can design to mark its sponsorship of the Glasgow 2014 Commonwealth Games.
Irn Bru was first sold in 1901, when Highland strongman Adam Brown featured on the label.
Commonwealth weightlifter Peter Kirkbride has now helped recreated the original design by donning a moustache and lifting a can into the air.
Manufacturur AG Barr said the design celebrated its sporting heritage.
Among the company's early sponsorship deals was that of Alex Munro, a world champion caber tosser and wrestler, in 1905.
Barr's head of marketing, Adrian Troy, said: "We're extremely excited to be part of what's set to be an extraordinary event for Glasgow and the rest of the nation."
Glasgow 2014 chief executive David Grevemberg said: "I am delighted to see the Glasgow 2014 Commonwealth Games so strongly supported with this eye-catching special edition design from AG Barr.
"These designs can only help build the anticipation and excitement for Glasgow 2014, the biggest multisport games Scotland has ever seen."