Aberdeen bucks trend of shop closures around Scotland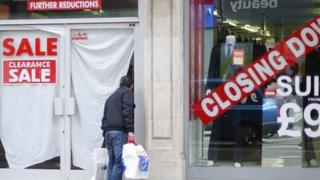 Aberdeen was the only major town or city in Scotland to buck the trend of falling shop numbers last year.
Glasgow was the city with most shop closures - 113 - but also had the most new store openings, with 95.
A total of 353 stores closed during 2012, a rise of 14% from the previous year, says research by the Local Data company and PricewaterhouseCoopers.
Card shops, jewellers and travel agents were among the most common outlets to stop trading.
The research shows that the number of new store openings also fell from 2011 figures.
Bruce Cartwright, head of business recovery services at PwC in Scotland, said: "While the data is a little disappointing, it is perhaps important to acknowledge that a number of businesses with closures had anticipated these for some time.
'Value and grocery stores'
"Retailers generally shared two problems - too many stores and too little multi-channel activity - while some had failed to deal with their underlying issues, hiding behind light-touch restructuring processes, especially Company Voluntary Arrangements."
Some 276 new shops opened last year, with discount stores, loan companies and betting shops the most common new premises.
"What is pleasantly surprising, however, is the speed at which some of these stores have been picked up, by value and grocery stores in particular," said Mr Cartwright.
"Much of the success in attracting new investors to these locations is down to the economic development teams within local authorities.
"There is room for positivity in 2013. As we have seen in the past, good businesses with good operating models and good people don't fail.
"Businesses can shore themselves up so they are better prepared to weather any storms appearing on the horizon and undergoing company restructurings or renegotiating loan agreements in good time could also keep lenders, suppliers and other creditors satisfied until business picks up again."
'Significant reductions'
The Scottish figures follow a UK-wide trend of increased closures.
Matthew Hopkinson, director of The Local Data Company, said: "2012 was the first year that we have seen significant reductions of multiple retailers in town centres across Great Britain, with a net loss of nearly 1,800 stores.
"We can expect to see this trend continue and, indeed, accelerate in 2013 as more leases come up for renewal along with the ever-increasing demands from consumers for space that delivers an experience good enough to pull them away from their technology devices.
"Will the discounters, pawnbrokers, charity shops, coffee shops and supermarkets continue to fill a large proportion of these closing stores?
"Town centres will have to adapt faster than ever before to maintain their attraction to consumers."