David Coulthard fronts country driving safety campaign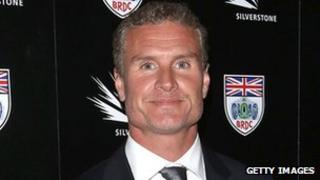 Former Formula 1 driver David Coulthard is to front a TV advert urging drivers to slow down on country roads to reduce the number of fatal crashes.
It is thought to be the first time an ex-grand prix driver has fronted such a campaign on national television.
Coulthard said: "The main goal of this campaign is to ultimately reduce fatalities on country roads.
"Sadly, too many people are killed in road accidents that could be avoided."
Coulthard, from the village of Twynholm in Dumfries and Galloway, said he was backing the campaign because he did much of his early driving on rural roads in the south-west of Scotland.
Countryside driving "comes with its own unique set of challenges", said the 41-year-old Scot, who won 13 grand prix during his career and came second in the F1 drivers championship in 2001.
'Muddy tracks'
Coulthard, who is currently an F1 commentator, said driving on country roads took more than simply being aware of the basic Highway Code.
He added: "Increased concentration and greater care is needed to adapt to the muddy tracks and changeable conditions, which make country roads particularly tricky.
"I hope this campaign will reduce the eventuality of accidents on country roads and make sure it is something that doesn't happen as frequently in the future as it unfortunately does today."
In the TV ad, Coulthard, who retired from racing in October after a spell in saloon cars, demonstrates to motorists that even the best drivers adjust their speed on country roads.
The campaign, organised in conjunction with the Scottish government, will also feature on the radio, online and in cinema adverts, running throughout March.
Figures released last year show that road casualties are at a record low.
Injuries down
A total of 12,763 injuries and deaths were recorded during 2011, 575 fewer than in the previous year.
The number of deaths were down 22 to 186 and injury numbers were down 553 to 12,577.
Transport Minister Keith Brown said: "In Scotland, we currently have the lowest road casualty figures since records began.
"Fatalities are down by 11% from 2010 and, while even one death on our roads is one too many, there are encouraging signs of progress.
"We know that male drivers make up three-quarters of those killed on our roads and 70% of fatal accidents happen on country roads.
"I hope that David Coulthard, a Formula 1 legend, can help convince them to change their dangerous driving habits."