Scottish government police target hit despite fall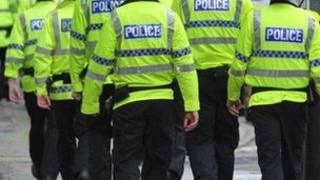 Scottish ministers have said targets on keeping up police officer numbers were being exceeded, despite a small drop at the end of last year.
There were 17,436 full-time equivalent officers on 31 December 2012, down by 18 compared with 30 September.
The government said the total represented an increase of more than 1,200 since the SNP came to power.
Scotland's eight police forces are being merged into a single, national service next month.
Opposition politicians claimed budget cuts meant more officers being taken off the beat to undertake civilian duties, meaning the figures did not tell the whole story.
According to the government-published, official figures:
There were 17,436 full-time equivalent police officers in Scotland on 31 December 2012.
This was an increase of 1,202 police officers (7.4%) compared with 31 March 2007, before the SNP government began to implement its commitment to deliver 1,000 additional police officers after its election in May 2007.
Police numbers decreased by 18 full-time equivalent police officers in the last quarter from 30 September 2012 (-0.1%), and have increased by 93 full-time equivalent officers in the last year from 31 December 2011 (+0.5%).
Scottish Justice Secretary Kenny MacAskill, said: "These statistics show that the target to ensure 1,000 extra police officers is continuing to be exceeded and that is great news for communities across Scotland.
"Our additional officers are keeping our streets safe and have helped reduce recorded crime to its lowest level for 37 years.
"Meanwhile the crime clear-up rate is at its highest in more than 30 years and confidence in the police is also high and increasing."