Catholic Church in Scotland 'lacks support on sexuality'
The Catholic Church in Scotland has failed to provide "compassionate and pastoral" support on issues of sexuality, its head of media has said.
Peter Kearney spoke to Radio Scotland's Sunday Morning a week after Cardinal Keith O'Brien admitted sexual misconduct following claims by priests.
Mr Kearney said the church's lack of support over sexuality was unfortunate.
He also said the Church had rightly faced claims of hypocrisy but added that everyone was fallible.
The head of the church's media operation spoke to Ricky Ross about a lack of support for Catholics who may be struggling with their sexuality.
He said: "If there's an area where the Church hasn't been seen - frankly because it's not present - it's in that area of compassionate, pastoral outreach to people who are struggling with same-sex attraction, or they're confused about it and would love the chance to talk to someone in a compassionate, pastoral context.
"The truth of it is that that level of support really isn't there.
"If you've got a drug, or alcohol problem, or homelessness, then we seem to be able to step in and offer you support, help and options. But when it comes to human sexuality, it just isn't there at the moment. And that's unfortunate."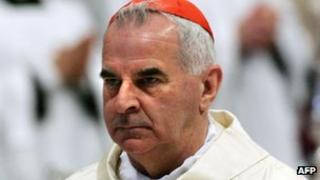 Mr Kearney said the church was under more scrutiny than ever before, since claims of misconduct against the cardinal were first made public two weeks ago.
"The level of global media interest in this story has been unprecedented, we've never encountered anything like it," he said.
"And I include in that the interest in and coverage of the Pope's visit in 2010. In the case of the Pope's visit, there was a high level of coverage but it was over a period of months and weeks - the build-up and so on. And it was a completely different tone and nature to this."
Last week, Archbishop Philip Tartaglia - who replaced the cardinal in the Archdiocese of Edinburgh and St Andrews after his resignation - said the Church had been accused of hypocrisy "for obvious reasons".
Mr Kearney said he agreed with the sentiment: "I think hypocrisy - as Archbishop Tartaglia described it - is the stinging charge but it's probably the most accurate charge to make, under these circumstances.
"On the other hand, if you come at it from a Catholic perspective, you have to say we are all flawed, fallible human beings, everyone fails in one way or another, or at one time or another. We have to just accept that.
"When it happens to someone in such a high profile and significant position, as it has done recently, then the impact is enormous, compared to it happening to one of us in our daily lives. But the underlying issue is the same."
Sunday Morning with Ricky Ross is available on the BBC iPlayer.