Salmond calls on PM to apologise for 'broken trust' on troop numbers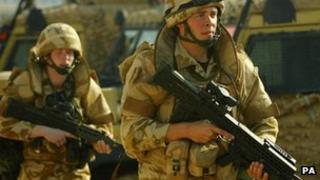 First Minister Alex Salmond has called on David Cameron to apologise for what he said was the UK government's "broken commitment" on troops in Scotland.
In a letter to the Prime Minister, Mr Salmond criticised the scaling down of plans to increase army personnel numbers north of the border.
About 600 more soldiers are to be based in Scotland, fewer than expected.
A Downing Street spokesman said the defence review had brought "certainty" to the armed forces in Scotland.
On Tuesday, Defence Secretary Philip Hammond outlined where troops withdrawing from Germany would be rehoused in the UK.
He told MPs that the Craigiehall Camp near Edinburgh would close and Kirknewton would not now be developed as an Army barracks, but Dreghorn Barracks would remain.
'Shameful disregard'
The changes mean the Army's presence in Scotland will grow to about 4,000 by 2020.
The coalition government had said in 2011 that up to 7,000 personnel would return to Scotland.
Mr Salmond's letter to Mr Cameron said the announcement on troop numbers had broken the UK government's "bond of trust" with Scots.
He wrote: "This week has seen an announcement by your government on military basing which shamefully disregards clear promises to Scotland that were made less than two years ago.
"You should now apologise for the breaking of those commitments to the people of Scotland.
"You must also now commit to work constructively with us to ensure that the most positive outcomes possible are achieved for communities around Scotland and, crucially, for service personnel and their families affected by these changes."
The SNP leader said the Scottish government had engaged with the Ministry of Defence (MoD) on "every possible occasion" since details of the Strategic Defence and Security Review were announced.
In 2011, Liam Fox, then the defence secretary, said that between 6,500 and 7,000 personnel would return to Scotland and be part of a new multi-role brigade.
He also said new barracks would be built at Kirknewton in West Lothian and a new training area would be established in the Borders.
Mr Salmond said communities across Scotland will feel "deeply aggrieved".
He added: "That includes both (RAF bases) Kinloss and Leuchars where it is now clear that Army numbers to replace the RAF will not match those promised.
"It also includes communities in and around Edinburgh, where people are coming to terms with the confirmation that two major Army facilities will, at least in part, close."
Responding to Mr Salmond's letter, a Downing Street spokesman said: "It is regrettable that the First Minister has chosen to write in such intemperate terms about an announcement that will increase both the army and overall military footprint in Scotland.
"The review has brought certainty and security to our armed forces in Scotland. It is the policy of the Scottish government to remove them entirely.
"The total number of armed forces personnel will rise in Scotland by over 600 - giving Scotland its fair share of military numbers on a population basis - and we will be spending more than £100m on refurbishing military facilities in Scotland."