'Winter gritting' to tackle Scotland's cold weather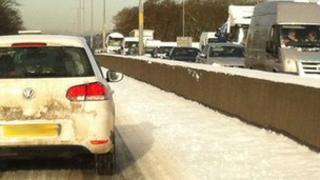 Trunk roads are to receive a full winter treatment in response to the cold weather which has brought travel disruption across parts of Scotland.
Sporadic heavy snowfall, accidents and breakdowns contributed to a number of problems and delays on Monday.
Transport Scotland said a full fleet of 130 gritters would be out again on the roads on Monday night.
The Met Office has issued warnings of rain, sleet and some snow on higher ground, creating icy conditions.
A Transport Scotland spokesman added: "‪With more severe weather warnings in place, we would ask drivers to continue to play their part by planning their journeys in advance, adapting their driving behaviour to match weather conditions and considering public transport alternatives where available."‬