Marriages reach seven-year high in Scotland, say new 2012 figures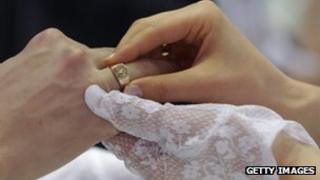 Marriages in Scotland have increased for the third consecutive year and are at their highest level since 2005, according to the latest statistics.
Provisional findings for 2012 revealed that 30,534 weddings took place, a 4.8% rise on 2011.
The figures have been released by the National Records of Scotland which handles statistics on births, deaths and adoptions, as well as marriages.
They show that in 2012 58,027 babies were born, 563 fewer than in 2011.
The number of deaths last year was recorded at 54,937, which is 1,276 more than in 2011.
The new chief executive of the National Records of Scotland, Tim Ellis, said: "In historic terms, the number of marriages in 2012 was relatively low.
"However, the total number of marriages has been rising since 2009 and in 2012 reached 30,534, an increase of 4.8% on the 2011 figure."
On the number of deaths in 2012, Mr Ellis said that although the figure rose, it was not high in historical terms.
He added: "From the mid-1940s to the mid-1990s, there tended to be between 60,000 and 65,000 deaths per year, and larger numbers before then - far more than in recent years, when the annual totals have been below 55,000.
"There is usually some year-to-year fluctuation in the number of deaths and in 2011 Scotland recorded its lowest ever annual total (53,661), so an increase in the number registered in 2012 was not unexpected."
Other figures for 2012 showed that there were 574 civil partnerships - 257 male and 317 female - which was 20 more than in 2011.
Deaths from cancer rose by 2.3% to 15,808, deaths from coronary heart disease fell by 2.0% to 7,481, and there were 4,474 deaths from stroke, a fall of 2.6%.