Former MSP Rosie Kane turns to comedy
Former Scottish Socialist MSP Rosie Kane, no stranger to speaking her mind, is returning to the spotlight in a different guise - as a comedian.
A decade ago Scottish politics was experiencing the phenomenon which is Rosie Kane.
She was one of the six Scottish Socialist Party MSPs who served at Holyrood for four years, before self-destructing in the spotlight of the Tommy Sheridan defamation trial.
Kane, who grew up close to Sheridan in the Pollok area of Glasgow, is one of the most "colourful" characters to have entered the Scottish Parliament's chambers.
But after protests, imprisonment and mental breakdown, as well as the turmoil of the Sheridan trial, her time as an MSP ended in 2007.
She told BBC Scotland's Comedy Cafe that the idea for her new comedy venture came after she had been for a work capability assessment after a period of being "really unwell".
Kane, now 51, says her friend Rachel asked what she would really like to do.
She says: "I just spilled the beans. I told her I would love to write and perform a show that was funny.
"So, basically I took the stories I tell in pubs to fill silences, because I don't like them much, and put them all together in a show that's about a wee girl that starts bumping and scraping and scratching and tripping, but not in a drug kind of way, all the way to Edinburgh."
The story in her show, which is part of the Glasgow Comedy Festival, goes from her childhood, as the only girl among five siblings, until her election to the parliament in 2003.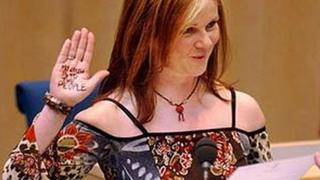 It stops at the moment she gets elected.
The protest at pledging an oath of allegiance to the Queen, the arrest at an anti-nuclear demonstration at Faslane, the time in prison for refusing to pay her fine, the anguish of the split in her party do not form part of this story.
"That's because I can't remember any of that," she jokes.
"I had to end somewhere and that seemed like that was the point because there is a wee something that goes on that maybe people don't expect to happen."
Actually Kane says her memory for childhood is "almost photographic" and her recall of detail is generally very good.
"It's maybe an Irish thing," she says.
"I also think I was a funny wee kid and that's in the show.
"I once bit the postman. I did stupid, mad things because I was bored."
Although her performances at the State Bar in Glasgow are mainly a one-woman show about her life, she is joined on stage by her brother "Big Tam" McGarvey, who will be her musical accompaniment.
Her first attempt at a comedy show was last year at the Tron in Glasgow and she says she is starting to go "a bit bonkers with adrenaline" as the latest performances come closer.
"I'm terrified until the minute I go on stage. I'm a wee bit of a scaredy cat in public, really and truly I am, but there is no safer place in the world than that wee stage."
Her gallus storytelling style has been compared to Scottish female favourites Una Maclean, Dorothy Paul and Elaine C Smith.
Kane remembers that Smith gave her some great advice during her time as an MSP when they performed in the Vagina Monologues together.
"I was garbage and I was terrified and I was in too deep," she says.
"Elaine said to me 'just drop the west of Scotland Catholic terrors and say bad words'. It was the best advice ever."
An Evening with Rosie Kane is at the State Bar in Glasgow on Thursday 21 March and Saturday 23 March.