Scotland lags behind as UK shops recover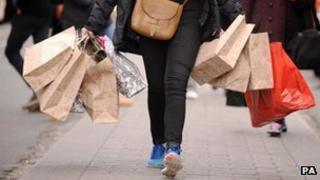 Scotland is lagging behind the UK as a whole in the number of shoppers being attracted to retail outlets, according to a new report.
The total retail footfall in February was down 2.5% in Scotland compared to last year, says a report published by the Scottish Retail Consortium.
Collectively, the UK managed an average increase of 0.8% in the same period.
Scotland had the second poorest figure, behind North England and Yorkshire, which suffered a 2.7% fall.
Six out of seven English regions reported a rise, including Greater London, which managed a 5.8% increase, according to the SRC/Springboard footfall monitor.
Northern Ireland also had a positive result of 2.6%, while Wales suffered a small decrease of 0.5%.
The low footfall rates for Scotland in February are a reflection of low levels of consumer confidence and lower levels of sales growth, according to SRC director Fiona Moriarty.
First annual increase
"Although February's sales figures showed some encouraging signs of improvement, we are reminded that the economic and trading environment remains fragile," she said.
"Scottish retailers will be hoping that the arrival of spring and seasonal lifts from Mother's Day and Easter help to elevate this underwhelming figure into more positive territory in the coming months."
UK-wide footfall fell for both out-of-town destinations and shopping centres, but the high street experienced the first annual increase for three months, reaching 2.7%.
It also had the largest increase in one month since December 2011, according to Diane Wehrle, research director at Springboard.
The increased popularity with the high street in contrast to other destinations could be explained by greater variety, she said.
"For the high street, one swallow does not make a summer, but these results might hint at the green shoots of recovery, or at least some stabilisation in the current environment," Ms Wehrle added.