Snow and ice warnings across Scotland continue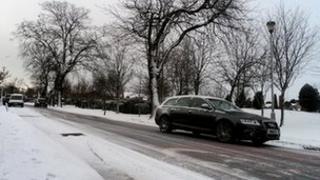 Scotland will bear the brunt of the poor weather over the next few days, the Met Office has warned.
It issued yellow "be aware" warnings for snow and ice across much of the country throughout Monday and Tuesday.
And forecasters warned of prolonged snowfalls across north east and east Scotland on Monday.
Snowfall will be mostly inland across Caithness, Sutherland, Aberdeenshire, Moray, Angus, east Perthshire and west Fife, especially later in the day.
In these areas, 5cm to 10cm of snow could accumulate by midnight on Monday, with about 15cm (6in) over upland areas.
In other areas covered by the yellow warning, accumulations will generally be less than 5cm.
However, Met Office forecasters said: "Conditions look likely to become especially poor for some upland areas, with atrocious travel conditions due to the combination of snow and strong winds."
During Tuesday, an area of sleet and snow over Scotland will move south into parts of northern England and Northern Ireland.
Snowfall will be heaviest over hills.
Icy stretches will add to the hazardous conditions.
Conditions should start to ease from the north through the day.