Earth Hour: Thousands of Scots switch off lights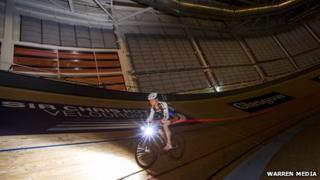 Thousands of Scots switched off their lights for an hour to mark an annual climate change campaign.
Nearly 9,000 people in Scotland had signed up for Earth Hour, which was started by environmental charity WWF in 2007.
Some of the country's best-known landmarks, including Edinburgh Castle and the Forth Rail Bridge, were plunged into darkness for the event.
Earth Hour got under way at 20:30 on Saturday.
Nearly 900 Scottish schools took part in the event, which was designed to highlight the impact climate change is having on people and nature.
WWF Scotland said it had also been offered the support of all 32 of Scotland's local authorities, as well as businesses and other organisations.
'Spooky walk'
Events that were planned for Earth Hour included an astronomy and wildlife-watching event near Broadford on the Isle of Skye and a "spooky walk" in the Auld Kirk and the Auld Brig in Ayr.
The Chris Hoy Velodrome in Glasgow, the Falkirk Wheel, Glasgow City Chambers, the Scottish Parliament and the McCaig Tower in Oban were among Scottish landmarks that were switched off.
The event in Scotland was part of a global campaign, with millions of people in more than 150 countries expected to take part.
WWF Scotland director Lang Banks said: "We are very proud that Scotland is again getting behind WWF's Earth Hour in such a big way.
"From political leaders, school children, local authorities and landmarks, it is great to see so many people getting behind this global event."