Charity claims elderly 'isolated' by poor public transport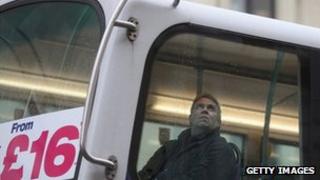 Thousands of elderly people in Scotland feel trapped in their own homes because of a lack of suitable public transport, a charity has claimed.
A survey by WRVS found 16,500 75-year-olds felt unnecessarily excluded because of poor public transport.
WRVS, a major provider of community transport, said the problem had been made worse by cuts to services.
Transport Scotland said it had worked hard to guarantee the elderly free bus travel.
The WRVS survey suggested 20% of older people in Scotland had been hit by a reduction in public transport services, while 3% said they now got out and about less because they had no way of getting to destinations by themselves.
The charity claimed service cuts had had "a devastating impact on older people's sense of happiness and wellbeing".
Although free travel is available for those aged over 60 in Scotland, the report found that 13% of those aged over 75 did not use public transport because it was not suitable for their disabilities.
'Basic necessity'
Margaret Paterson, head of operations for WRVS in Scotland, said: "Older people in Scotland shouldn't be confined to their own homes simply because they can't access transport.
"Getting out and about is a basic necessity that many of us take for granted, but this report shows it isn't so straightforward for older people who may have mobility issues and we know this can have a devastating impact on wellbeing."
Transport Scotland said it was investing £187m this year, rising to £192m in 2014, on the concessionary bus scheme.
It added that the scheme had a big impact on elderly people getting out and about and reducing isolation.
In January, a deal was reached to safeguard free bus travel for the over 60s and people with disabilities.
The Scottish government agreed an extra £10m-worth of investment in the bus industry to allow concessionary travel to continue.
However, the amount of money the government reimburses the bus operators is being reduced over the next two years.
Scottish Labour said it would mean higher fares and poorer services, but the government rejected those claims.