Scottish doctors 'stretched to breaking point', BMA GP warns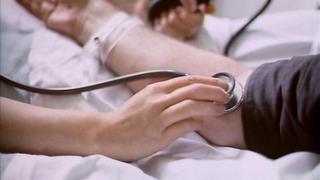 Doctors in Scotland are being "stretched to breaking point" by rising workloads, a top GP has warned.
Patient safety could be put at risk as GPs struggle to cope with unmanageable demand, British Medical Association's Dr Alan McDevitt said.
His warning follows the Scottish Patient Experience Survey 2011/12, which shows a fifth of people have to wait more than three days to see a GP.
The Scottish government said it was reducing red tape to free up GPs' time.
The survey of more than 145,000 people covered 996 GP surgeries around Scotland, with 89% of patients surveyed rating their doctor as "good" or "excellent".
However, the results suggested that people were finding it harder to see their doctor.
Seventy-five per cent of people said they were happy with levels of access to their GP, compared with 81% in 2009/10.
Dr McDevitt, chairman of the BMA's Scottish GPs Committee, said that rising patient numbers and more complex care were adding to doctors' workloads.
He said the increasing pressure was leaving many GPs "emotionally and physically exhausted".
"We do have to fix this problem before it starts to break the system," he said.
"A lot of GPs are very close to the edge. Everywhere I go GPs say they are saturated."
He said that many were worried they were going to miss things.
"There has been very little change in the number of GPs and there are only so many hours in the day," Dr McDevitt said.
"Increasingly we are having to say no in order to make sure we can safely do the volume of work."
The Scottish government said the results of the patient survey would be used to improve the quality of local services.
A spokesman said: "The GP contract agreed in December will reduce red tape.
"However we are aware of concerns raised by GPs around workload and recognise that GP practices are dealing with a high workload.
"The ongoing National Primary Care Workforce Survey will help us establish a clear picture of our primary care needs around the clock and across the country, ensuring the right number of people are trained to the right level, further improving outcomes for patients."
The survey found that older people were more satisfied with the care given to them than younger people.
Smaller GP practices provided better patient experience than larger ones, the results suggested.
Results for individual surgeries have been made public at Better Together: Scotland's Patient Experience Programme.