Cancer patients wait 'too long' for secondary treatment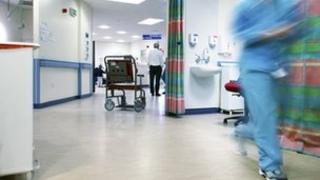 Cancer patients may be waiting too long for follow-up treatment after surgery, according to the Scottish Labour Party.
It said there were no guarantees over waiting times for follow-up radiotherapy or chemotherapy because they were not subject to a target.
New Scottish government data suggested 98% of cancer patients waited no more than 31 days for their first treatment.
Health Secretary Alex Neil said further treatment should be based on clinical urgency and not political targets.
He said: "There is a place for targets, clearly we have targets for the initial diagnosis, but beyond that I don't think it makes sense to set further targets.
"These decisions needed to be clinically driven by clinicians, not target driven by politicians."
However, Scottish Labour health spokeswoman Jackie Baillie said she had been contacted by constituents, and knew of others, who had experienced "extraordinarily long waits" for their follow-up cancer treatment.
The party contacted Scotland's 14 health boards about waiting times for the "whole cancer journey" but was told that data on secondary treatment was not kept.
'Anxious time'
Ms Baillie claimed cancer treatment was better in England because the secondary treatment was also subject to a 31 day waiting time.
Cancer charities have said secondary treatments should take place quickly - not only on medical grounds, but because this is an anxious time for patients.
Ms Baillie said: "When you speak to clinicians, their priority is to treat as quickly as possible.
"This is a question of resources and priorities.
"The cabinet secretary really needs to ensure that the clinicians are supported in treating people with cancer."
However, Health Secretary Alex Neil said setting too many targets could skew resources.
He added: "That's why we've actually reduced the number of targets substantially over the last five years."
He claimed this helped prevent clinical decisions being based on reaching targets, and ensured "the right clinical decision in every case".
Last month, a national Audit Scotland report raised serious questions about the way hospital waiting lists were being administered.
The report was instructed after waiting list manipulation emerged at NHS Lothian.
NHS Lothian was found to have removed patients from the 18-week waiting list when they refused to travel to England for treatment, marking them as "unavailable for social reasons".