Scottish teachers 'support' strike action over pensions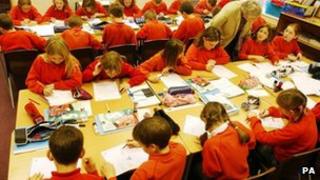 Members of Scotland's largest teaching union have said they are willing to strike in a row over pensions.
More than 90% of EIS union members who voted in the consultative ballot said they would support the move, if talks with the Scottish government failed.
Ministers have proposed that teachers pay out more of their salary in pension contributions.
They blamed the UK government, saying the Scottish budget would be cut if the changes were not made.
The ballot by the EIS, which represents 80% of Scotland's teaching professionals, was held on a consultative basis, to gauge their willingness to strike.
EIS general secretary Larry Flanagan said: "EIS members have given their overwhelming support to the principle of further industrial action in defence of their pensions and sent a message that, hopefully, even the Scottish government cannot ignore.
"EIS members across Scotland have shown great patience during pension discussions with the Scottish government over the past year.
"However, given the lack of progress in these talks and the apparent unwillingness on the part of the Scottish government to negotiate in good faith on issues such as contribution increases, teachers and lecturers are now angry at the position the Scottish government has continued to take."
Mr Flanagan said Scottish ministers were replicating UK government "attacks on public sector pensions" despite having the option to negotiate an alternative north of the border.
Plans opposed
The Scottish government said pensions policy was reserved to Westminster, adding that it continued to oppose increases to public sector pension contributions.
"We are required by the UK government to implement the increases and were we not to do so, HM Treasury would reduce the Scottish budget by an estimated £35m every year for teachers' pensions alone," said a Scottish government spokesman.
"We have been fully engaged in discussions with the teaching unions and recognise their concerns.
"We hope the EIS will continue their participation in the negotiation process but do not think that industrial action is in the best interests of pupils or parents."