New ScotStar medical transport service set up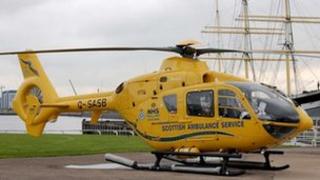 Scotland's specialised baby ambulances, children's ambulances and flying doctors are to be brought together as a single service.
The new ScotStar project will be run by the Scottish Ambulance Service (SAS) and will be based at the new air ambulance centre at Glasgow Airport.
Other bases with clinical teams will be established around the country.
The service will provide specialised transport for about 2,000 critically ill children and adults every year.
It is hoped ScotStar, which is expected to cost £9.3m a year, will be operational by April of next year.
Doctors and other medical professionals in the Scottish Neonatal Service currently help to transport sick babies, usually taking them from one hospital to another for treatment.
Another service does a similar job for young children, while clinicians in the Emergency Medical Retrieval Service help transfer seriously ill patients between hospitals, usually by helicopter, and also respond to emergency calls to help transport critically injured people.
Pauline Howie, SAS chief executive, said: "The ScotStar proposal is the result of a detailed review of all of the specialist transport and retrieval services. It will deliver more flexible and responsive care for critically ill patients across all of Scotland as a genuinely world class service.
"A centralised and co-ordinated approach will create opportunities for greater shared working, training and education of staff and bring efficiencies and consistency to the way in which some of the most critically ill patients are transported."