Point of no return: Advice on buying goods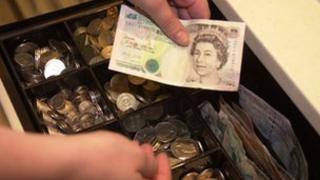 I'm Fergus Muirhead and I'm here to answer any questions you may have about any money or consumer issues.
I get asked lots of questions about the rights you have when you buy something that doesn't work, or where you simply change your mind and decide that you want to return the goods you have bought.
I thought it would be useful to summarise some of the main issues that I get asked about, and that you have to deal with when returning goods that are either faulty or you don't want any more.
As usual, if you have any more consumer queries, or any issues you want me to look into for you, please drop me a line at Fergus@bbc.co.uk.
'You can't return the goods without a receipt'
Not true. Retailers are not under any legal obligation to provide you with a receipt so it would be rather unfair if they try to insist that you need to produce one when returning goods. They may, however, ask you for proof of purchase and for this you could use a cheque stub, bank or credit card statement.
'You need to send it back to the manufacturer'
This is one of the most common problems I have to deal with and you would be amazed at the number of people who are sent like a yo-yo back from retailer to manufacturer to retailer to manufacturer.
It happened to me last month when I purchased a new printer and I was told that I should buy an extended warranty or I would have to send my printer, if it broke down, back to the manufacturer. I had to take the manager aside and ask him to ensure that his staff didn't tell his customers any more lies.
Legislation on this issue is quite clear. Your contract is with the retailer and any problems should be dealt with by them, not the manufacturer.
'You are only covered for the first year'
Many items are covered by a manufacturer's warranty that lasts for the first year, and this is why in the above example you may find it as easy to deal with the manufacturer as the retailer within that time, even although legal liability lies with the retailer.
The important point here is that any manufacturer warranty is issued in addition to the protection you enjoy under sale of goods legislation.
This protection allows you to bring an action against a retailer for up to six years (five in Scotland). That doesn't mean that you should expect a full refund if your kettle breaks down after five-and-a-half years, but instead any claim after a prolonged period of usage would need to take into account the expected normal working live of the goods concerned.
'You can't get a refund just because it doesn't fit'
Here the retailer is correct. You are entitled to exchange or refund if the goods that you buy are faulty but you will not automatically get your money back just because the shoes you bought hurt when you put them on for the first time, or your new expensive leather suite won't fit through your sitting room door.
You have a responsibility to ensure that the goods you are buying are actually the ones you want. You need to check sizes and colours and the like before parting with any cash.
Having said that, many of our larger retailers have a no-quibble refund or exchange policy within 28 days or so of purchase, as long as goods are returned in perfect condition, and this may often include original packaging.
So if you are buying something that you may want to return, it is worth asking the question about refund policy up front so that you won't be disappointed later.
'You can only get a refund within 30 days of purchase'
Nonsense. Thirty days appears nowhere in legislation but many retailers try to hide behind the notion that if you don't bring something back within 30 days you can't be helped. Legislation changed last year and if a fault appears in goods now within the first six months the assumption is that the fault was there at the time of purchase. After six months the onus is on the consumer to show that the fault was there at the point of sale.
There is another issue here and that is the concept of "rejection". You can formally reject goods that you have purchased and that you feel fail to perform. The law is nebulous on what is a "reasonable" time in which to do this, but it has to be said that it is normally measured in terms of days rather than weeks or months.
'You can't get a refund on sale goods'
Completely untrue! Your rights when purchasing sale goods are exactly that same as when purchasing anything else, as long as you are returning them because they are faulty and not just because you have changed your mind.
The only time this may change, and it doesn't just apply to sale goods, is when you were told about a fault in goods at the time of purchase and they were reduced because of that fault. You can't come back and demand a refund in this circumstance when you were aware of the fault at the point of sale.