'Highest-ever' organ donor figures for Scotland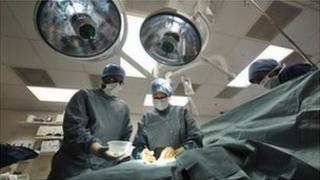 The highest-ever number of organ transplants were carried out in Scotland last year.
New figures indicate there were 356 transplants from both deceased and living donors, 10 more than during the previous year.
However, 600 people remain on the transplant waiting list.
The statistics, released by NHS Blood and Transplant, showed the number of organs donated by people who had died rose to a high of 94 last year.
This was up from 54 five years ago, a 74% rise.
In 2008, a taskforce was set up to look into the UK's organ donation system.
'Landmark achievement'
There were calls for an opt-out rather than opt-in system, meaning everyone would become an organ donor on their death unless they expressed an objection in life.
The taskforce stopped short of that recommendation but did acknowledge departments outside intensive care were not considering organ donation enough.
It set a target for the NHS to increase the number of deceased donors by 50% by 2013, which Scotland met a year early.
The Scottish government described reaching the target as a "landmark achievement".
However, some feel the objectives set by the taskforce were never ambitious enough.
Dr Sue Robertson, a member of the BMA's Scottish Council and a renal physician, said: "BMA Scotland is delighted that there has been a 74% increase in Scots donating organs since recommendations were set by the Organ Donation Taskforce in 2008.
"However, we agree with the chair of the Organ Donation Taskforce, Elisabeth Buggins, that more can be done and more lives can be saved."
Dr Robertson pointed to a BMA report which concluded that the best way forward for the UK was to introduce an opt-out system with safeguards, otherwise known as a "soft opt-out system".
She called for a "serious debate about moving to opt-out".
Last year, 34 people died waiting for a transplant in Scotland.
Two-hour limit
However, this number was down from 55 who died while on the waiting list in 2007-08.
Every day in the UK about 1,500 people die, of whom about 400 are on the organ donor register.
But on average only two of those 400 will become organ donors after death.
Doctors say the biggest obstacle remains relatives of the deceased, who often are not aware that their loved one wanted to be an organ donor.
Surgeons have less than two hours to transplant organs before they are starved of oxygen and become unviable.
The Kidney Federation has campaigned for more effort to be made to take organs from donors other than brain stem-dead patients.
Meanwhile, the number of people on the NHS Organ Donor Register in Scotland has reached a record high of more than two million.