Baby ashes scandal: Glasgow City Council calls for nationwide inquiry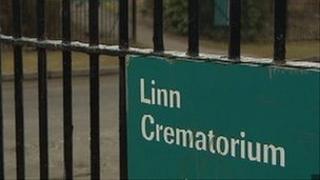 Scotland's largest council has called for an independent inquiry into the disposal of the ashes of dead babies without the knowledge of parents.
It comes after a series of BBC Scotland investigations into the scandal.
Glasgow City Council has confirmed it is aware of six cases and is reviewing more than 2,300 infant cremations.
But it said only a nationwide inquiry could provide answers parents want. The Scottish government said local councils should consider their own inquiries.
The issue first emerged in Edinburgh at the end of last year and Dame Elish Angiolini has been tasked with investigating practices at the city's Mortonhall Crematorium.
Responding to calls for a wider inquiry, the Scottish government said it was up to councils to consider whether they want to follow a "similar course of action" to the Edinburgh investigation.
On Thursday, a BBC Scotland investigation revealed concerns in Glasgow, and Deputy First Minister Nicola Sturgeon has now suggested the Angiolini investigation could have a wider remit.
But one Labour MSP insisted there should be a Scotland-wide public inquiry and Labour controlled Glasgow City Council said it was seeking a nationwide inquiry.
The local authority said an initial review had identified six cases where the wishes of parents were not adhered to. The crematoriums involved in Glasgow are Linn and Daldowie.
The council said it had been instructed "in good faith" to disperse the ashes and that an internal review had recommended changes to how paperwork was handled. A review of 2,385 infant cremation records from Glasgow over the past 15 years is under way.
A spokesman added that a further independent inquiry could not be ruled out, but that it would also be writing to the Scottish government calling for a nationwide inquiry into public and private cremations.
In December 2012 it emerged that Edinburgh's Mortonhall Crematorium had secretly buried babies' ashes for decades.
Parents had been told that the ashes of cremated babies were not available to them, when they had actually been disposed of on their behalf, without their knowledge.
Last week, a BBC Scotland investigation revealed that Aberdeen did not return ashes for babies who were under 18 months old.
It has now emerged that at least six cases have been discovered in Glasgow.
One of these was the O'Rourke family, who are constituents in the deputy first minister's Glasgow South seat.
A Glasgow City Council spokesman said: "The initial review considered a sample of 120 cases from the 2,385 infant cremations we have carried out in the last 15 years.
"The next phase of the review will look at the remainder of the cases and consider whether our procedures have been correctly carried out in all cases."
Parent instructions
The spokesman said it had not yet found any cases where an instruction to return remains had been ignored.
But there had been cases where the paperwork indicated an instruction regarding disposal from the funeral director which had not been given by the parents.
He added that funeral directors and NHS staff involved in two of the cases could not be compelled to take part in an independent council inquiry.
The spokesman said: "We will therefore be writing to the Scottish government asking them to consider launching a nationwide inquiry into the policies and practices of all crematoria in Scotland, public and private, as well as the policies and practice of funeral directors and the NHS.
"We hope such an inquiry will give answers to parents who are rightly angry to discover that something they believed for years was not true, but just as importantly lead to national guidance which will be followed by all crematoria in Scotland and by all funeral directors and NHS staff who deal with bereaved parents."
A Scottish government spokeswoman said: "We believe Edinburgh City Council did the right thing in asking Dame Elish Angiolini to lead an investigation into the Mortonhall circumstances.
"It is up to other councils to consider their individual circumstances before deciding whether a similar course of action may be advisable.
"Going forward, the Scottish government has already been clear that we will be looking to update legislation on burials and cremations."
An NHS Greater Glasgow and Clyde spokeswoman added: "We would welcome contributing to any process with all those agencies involved to ensure that the NHS element of the choices available to patients is followed."
'Law change'
Scottish Labour's Kezia Dugdale has called on the Scottish government to launch an independent, Scotland-wide public inquiry.
She said: "The request by Nicola Sturgeon to extend the existing local investigation is not the right path to take as we need a change in the law to ensure there is a consistent approach across Scotland.
"Public Health Minister Michael Matheson has previously said the government will consider updating crematorium laws, some of which are over 100 years old.
"This should be moved along as we need to learn lessons from this tragic situation and put in place legislation to make sure it never happens again."
Earlier, Ms Sturgeon said she wanted Dame Elish's inquiry to have a wider remit.
The Glasgow MSP said: "I've been dealing with constituents in this matter, constituents that were featured on Reporting Scotland last night, they've been through a dreadful ordeal.
"My job as their MSP is to help them get the answers that they have a legitimate right to get.
"I do think that Glasgow City Council should follow the lead of the City of Edinburgh Council and order an independent inquiry.
"That could be done on a stand-alone basis or, and this might be the better way of doing it, we could ask Dame Elish Angiolini to widen the scope of the inquiry that she's already undertaken.
"I definitely think the time for that is right."