Scottish Tories hit out at Thatcher debate timing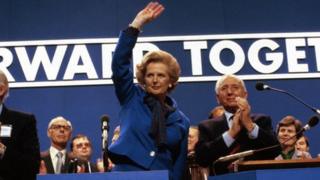 The Scottish Conservatives have hit out at plans to hold a Holyrood debate on the legacy of former PM Margaret Thatcher, on the day of her funeral.
The Scottish Greens have set aside their allotted parliamentary time on Wednesday to hold the debate.
Tory chief whip John Lamont said it was timed to "cause the most upset".
He said the Greens should reconsider whether their "narrow-minded agenda" was more important than the funeral of "one of the UK's finest-ever leaders".
The Green-Independent group in the Scottish Parliament called for all MSPs to participate in the debate.
There will be no formal motion or voting.
General election
The proposed title for the debate is 'There is still such a thing as society', which alludes to an assertion made by Baroness Thatcher in 1987.
In a magazine interview, Mrs Thatcher said: "There's no such thing as society. There are individual men and women and there are families."
The Conservative politician was UK prime minister from 1979 to 1990, winning three successive general elections.
She died on Monday, aged 87, after suffering a stroke while staying at London's Ritz hotel.
Scottish Greens leader Patrick Harvie said: "Margaret Thatcher has died, but the tragedy for huge numbers of people is that Thatcherism as an ideology still lives.
"We aim to encourage honest consideration of the legacy of Thatcherism, the core elements of which - competition and selfishness - continue to affect our society and our economy.
"Despite her efforts to undermine Scotland's shared values and public services, it is important to assert that our society still exists."
Mr Harvie added: "Collective solutions to shared problems are all the more important in light of the failure of the Thatcherite economic model.
"By encouraging an open debate I hope we'll see a bit less of the tribal politics Holyrood has suffered of late and bit more of an effort to acknowledge our shared aspirations for Scottish society.
"There are those on both sides of the independence divide who oppose the values of Thatcherism; they will need to find ways to work together after the referendum, whatever the result."
'Towering figure'
On Wednesday, tributes were paid to the former prime minister in the House of Commons, after the UK Parliament was recalled.
Prime Minister David Cameron told MPs at the start of a six-hour, specially-convened session that Lady Thatcher "defined and overcame the great challenges of her age".
Labour leader Ed Miliband said she had been a "unique and towering figure" but said he had disagreed with much of what she did.