Baby ashes scandal: Lib Dems join call for inquiry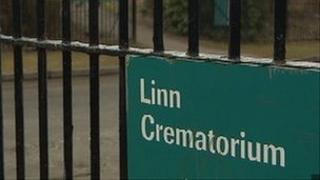 The Scottish Liberal Democrats have backed calls for a nationwide inquiry into the way the remains of dead babies have been disposed of at crematoriums.
A BBC Scotland investigation revealed that ashes of dead babies had been scattered at a Glasgow crematorium without the knowledge of parents.
It followed on from the scandal at Mortonhall Crematorium in Edinburgh where ashes were secretly buried.
Scottish Labour and Glasgow City Council had called for an inquiry.
Internal review
In the wake of the BBC investigation, Glasgow City Council, which runs two public crematoriums, confirmed it was aware of six cases and was reviewing more than 2,300 infant cremations over the past 15 years.
The council said it had been instructed "in good faith" to disperse the ashes and that an internal review had recommended changes to how paperwork was handled.
But it said only a nationwide inquiry could provide the answers parents wanted, as it could compel funeral directors and NHS staff to take part.
The issue first emerged in Edinburgh at the end of last year and Dame Elish Angiolini has been tasked with investigating practices at the city's Mortonhall Crematorium.
Responding to calls for a wider inquiry, the Scottish government said it was up to councils to consider whether they wanted to follow a "similar course of action" to the Edinburgh investigation.
But Deputy First Minister Nicola Sturgeon suggested the Angiolini investigation could have a wider remit.
Scottish Labour's Kezia Dugdale called on the Scottish government to launch an independent, Scotland-wide public inquiry.
And Scottish Liberal Democrat health spokesman Jim Hume warned Scottish government ministers that they must ensure that safeguards are in place to prevent a repeat of the scandal.
He said: "The death of a child is a tragedy for any family. The fact that many bereaved parents were told wrongly that there would not be ashes following a cremation is deeply regrettable. As a parent myself I cannot imagine the anguish that this would cause.
"A nationwide inquiry would give answers and clarity and ministers need to act."