Wind farm campaigners present petition to Alex Salmond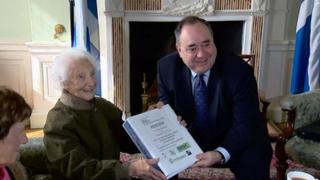 Campaigners have handed a 4,500-strong petition against the spread of wind farms to First Minister Alex Salmond.
Rhona Weir, the widow of climber, writer and broadcaster Tom Weir, presented the document on behalf of Stop Highland Windfarms.
The petition has the backing of the Scottish Conservatives.
Meanwhile conservationists have been telling a Holyrood committee more must be done to protect wild land across Scotland.
The Stop Highland Windfarms petition states: "We the people from all over the world who love Scotland, petition First Minister Alex Salmond and Energy Minister Fergus Ewing to stop the reckless siting of wind turbines in Scotland."
The group said it had previously tried to present it to Mr Salmond at the SNP conference in Inverness last month but was unable to to so.
Scottish Conservative MSP Murdo Fraser, convener of the Scottish Parliament's energy committee, said: "This petition outlines well the fears communities have all over Scotland.
"People do not want to see their treasured countryside plastered with wind turbines, which aren't even an efficient producer of energy."
Unspoilt areas
Mr Salmond said he was "delighted" to meet Mrs Weir and hear her thoughts on the issue.
He added: "While around a fifth of Scotland already enjoys strong protection from development, including National Parks and National Scenic Areas, there is a legitimate debate about where the most appropriate sites for renewable energy in the country are.
"We believe that wind energy - suitably located, and subject to a planning process which gives the right level of protection to Scotland's important landscapes - can make a huge contribution to meeting Scotland's future energy needs."
In a separate event, Holyrood's public petitions committee has been hearing from the John Muir Trust and Scottish Natural Heritage about how best to protect Scotland's wild land.
The John Muir Trust has collected thousands of signatures from people who back its concerns about the rate of development across otherwise unspoilt areas.
The trust has been working on maps to build a picture of the best wild land which it believes should be given statutory protection, separate to existing designations such as National Scenic Areas.
In a submission to the committee, the trust stated: "Wild land in Scotland provides important ecosystem services, sustaining numerous forms of life including key biodiversity species and providing for essential climate change mitigation and adaptation, for instance, retention of carbon in peat, providing high-quality water supplies and contributing to natural flood defences.
"Wild land does not receive clear and explicit recognition or protection within the Scottish planning system, or when decisions are made on sustainable land use.
"As a consequence, as more accessible and less sensitive sites are developed, some of the best wild land faces the threat of being lost forever."
MSPs also discussed the impact of wind farms on the countryside.
Another petition calls for a change in planning regulations to enable an increase in the current "neighbour notification" distance of 20 metres.