Train stations to be spruced up for Ryder Cup and Commonwealth Games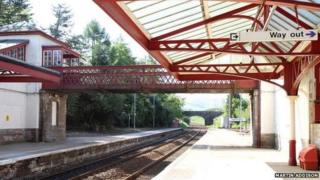 Almost 60 Scottish train stations are to be revamped in time for the Ryder Cup and Commonwealth Games next year.
A total of £5.27m, from existing Scottish government budgets, will be spent on sprucing up the stations.
This will include a complete facelift of Gleneagles station and improvements at a number in Glasgow.
Transport Minister Keith Brown said it was "only right" that the gateways to the Games and Ryder Cup were fitting for the arrival of visitors.
The money will be spent on improving car parks, providing better facilities for cyclists and upgrading toilets at 56 stations across the train network.
Accessibility will also be improved and information systems, ticket machines, waiting rooms, car parks and booking offices upgraded.
The work includes five major "shovel ready" projects, including the refurbishment at Gleneagles, and "quick win" improvements at Glasgow stations.
This is in addition to the £2m for Games stations already announced by Deputy First Minister Nicola Sturgeon earlier this year.
Announcing the improvements, Mr Brown said: "Our Year of Homecoming in 2014 will see the eyes of the world falling on Scotland for the Commonwealth Games and the Ryder Cup and it's only right that we ensure the gateways to those events are fitting for the arrival of the many thousands of visitors they will welcome.
"Outwith those events, more and more people in Scotland are realising and enjoying the benefits of travelling by train and this investment package helps to ensure that our stations continue to be a part of that attraction."
'Positive impression'
He added: "Figures just released by ScotRail show that Scotland's railways continue to go from strength to strength with record-breaking passenger numbers.
"I want to see that trend continue and this announcement will help draw more and more people onto Scotland's trains and off of our roads."
ScotRail will deliver the majority of the improvements, including the Gleneagles makeover and improvements at 54 other stations. Network Rail will provide a new car park at Irvine station and increased parking at Bathgate.
ScotRail managing director Steve Montgomery said: "Scotland's railway will play a major part in creating a positive impression for those visiting Scotland next year.
"Our teams are already working hard to transform these gateway stations and related facilities, and we will ensure we provide the highest standards of customer service."