Report on future of rural education released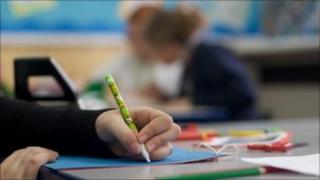 A long-awaited report on the future of rural education has been published.
The Scottish government set up a commission to look at the issue two years ago amid concern about the closure of village primary schools.
After taking evidence across Scotland, the Commission on the Delivery of Rural Education has made 38 recommendations.
They include protecting ministers' powers to call in closure plans, but with a new option to force councils to reconsider their decisions.
A moratorium was imposed on rural school closures until the report was released.
The commission was chaired by Sheriff David Sutherland and was given licence to "think radically" about how best to deliver rural education.
Sheriff Sutherland said the commission had looked carefully at the issues facing education in rural areas.
He said: "Our report makes 38 recommendations aimed at protecting the best of what we have today and delivering improvements for future young people.
"It was clear that education should not be looked at in isolation. Sustainable rural communities depend on a range of services including schools, but also jobs and housing, and that is why our report emphasises the need to focus on rural regeneration."
The sheriff added: "The issues about when and why a rural school should be closed were the most difficult the commission faced, and despite the different experiences commission members brought to our task, the commission was able to reach a high level of agreement around clear recommendations.
"I hope that these provide a template for improving and sustaining rural education in Scotland."
The commission said its main recommendations were:
Councils' consultation with their communities should be underpinned by stronger guidance from government on the Schools (Consultation) (Scotland) Act 2010
Educational benefit statements, the documents local authorities use to set out how a school closure will lead to an improvement in pupils' education, must improve in quality and will continue to be a very important part of closure proposals
Transparent, accurate financial information should be required to underpin any financial argument that is made to close a school
Ministers should continue to have the power to call in councils' school closure proposals and determine them on their merits
Ministers should be given the additional option of remitting decisions back to the local authority to be taken again
Innovative solutions should be developed to provide accessible early years provision and wraparound care, including the use of rural schools as community hubs for integrated services.
Learning Minister Alasdair Allan welcomed the report and said the government would make a fuller response in the coming weeks.
He said: "I will carefully consider today's recommendations as we look at how the Scottish government, Cosla and individual councils can improve how education is delivered in rural Scotland."
Councillor David O'Neill, president of council umbrella body Cosla, said: "It is right that Cosla and the Scottish government take some time to work out how we can take the report forward, but it is worth saying that my initial impression is that there is much within report that we would want to see implemented in full."
Scottish Liberal Democrat education spokesman Liam McArthur MSP welcomed the commission's recommendations but called for Education Secretary Mike Russell to now to make clear what his intends to do with them.
Mr McArthur said: "Over the last two years, however, many pupils, parents, school staff in rural communities across Scotland have been left uncertain about what the future holds.
"It is important therefore that the Education Secretary makes clear his intentions, particularly in relation to any changes to the 2010 Act, as a matter of urgency."
The Scottish Conservatives claimed the commission's proposals would make the closing of rural schools easier, as they would reduce the need for local authorities to prove an educational benefit for pupils.
Tory education spokeswoman Liz Smith MSP said: "We remain deeply concerned about the attempts to weaken the criteria by which councils must decide which schools should be recommended for closure.
"What matters is the question of educational benefit, yet it appears that this report is undermining that focus and I have no doubt this will be a matter of great concern to parents and teachers across Scotland."
Argyll and Bute Council was among the local authorities which planned to close a number of rural schools before the review was commissioned in 2011.
The council said it had primary school capacity for 11,500 pupils, but a roll of only 6,000, which was "unsustainable".
The Scottish government and Comhairle nan Eilean Siar have also been challenging each other in the courts over plans to close schools on the Western Isles.