Baby ashes parents issue 'absolute truth' plea to MSPs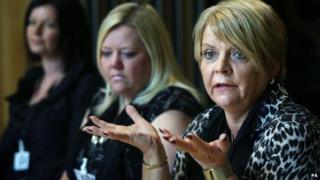 Grieving families calling for a public inquiry into the baby ashes scandal have made a plea to MSPs for the "absolute truth".
A group representing the families affected met politicians at Holyrood and said a full inquiry was the only way they could get answers.
In December it emerged babies' ashes had been scattered in Edinburgh without the knowledge of their parents.
There have also been concerns about crematoriums in Aberdeen and Glasgow.
Last week, Public Health Minister Michael Matheson announced that an independent commission was being established to examine the policies in place for handling ashes and cremated remains, which will then lead to legislation.
However, it will not investigate individual cases.
Another investigation, led by former lord advocate Dame Elish Angiolini, has been set up into practices at Mortonhall Crematorium in Edinburgh.
But the families' representatives told MSPs a full public inquiry was the only way to get the truth.
Patrick McGuire, of Thompsons solicitors, representing a number of the families, said: "In my opinion, the case for a public inquiry is utterly unanswerable and if one is not announced then there can only be a backlash among not only the families affected by this but the whole of Scotland, because I have never seen a group of people with a wider support among all communities."
After it was revealed that Mortonhall Crematorium secretly buried the ashes of babies for decades, BBC Scotland discovered that 24 babies had been cremated at Aberdeen crematorium in the past five years, without ashes being given to the families.
In response, Aberdeen City Council said it would be carrying out an audit.
'Absolute gulf'
It later emerged that at least two babies' ashes were disposed of secretly in Glasgow, without ashes being returned.
Glasgow City Council apologised to one family and joined calls for an independent investigation into the practices of publicly-owned crematoria to be held.
During the meeting with MSPs, chaired by Labour's Kezia Dugdale, bereaved parents took the opportunity to tell of their personal experiences.
Dorothy Maitland, operations manager for Sands (the Stillbirth And Neonatal Death Society), had her daughter Kaelen cremated at Mortonhall in 1986, and was told there would be no ashes to scatter.
"It's important to parents that they get the truth and we feel this is the only way we are going to get the absolute truth," she said.
"We are proud of our babies, we are mothers and fathers and we are fighting for the rights of our babies and, yes, it is emotional, but it's vital that people get to know how important these babies are to us."
She added: "For me, if someone could turn round and tell me why they told parents that you do not get ashes when they clearly knew you do get ashes, I just want an explanation as to why they did that."
Solicitor Mr McGuire said: "Public inquiries are underpinned by an Act of Parliament and that is a way to ensure that families affected by this tragedy will have a role within the inquiry, a very pro-active role where they will be entitled to be legally represented and entitled to influence the process and to ask questions.
"There's an absolute gulf between that and what's going on at present."
Reforming law
Willie Reid, chairman of the Mortonhall Ashes Action Committee, said the purpose of the meeting was to give MSPs the story from the perspective of the parents.
"We need a public inquiry," he said: "It's the only way that the truth of what's happened and why it has happened and to prevent it from happening again can come about."
After the meeting, Lothians MSP Ms Dugdale said: "All the commission will do is to look to reform the law around cremation, that's a good thing. But that doesn't give these families any sense of justice.
"That won't tell them where their babies' ashes are or why what happened did happen. The only thing that can do that is a public inquiry, so the fight for that continues. Nothing less will do."
A Scottish government spokeswoman said: "Recent cases have demonstrated that the existing legislation and current industry practice is falling short of what the public deserves, which is why we announced that we were establishing an independent commission to examine the policies and practices in place for handling ashes and cremated remains.
"The commission will make its recommendation by the end of this year and is the fastest way to ensure a consistent approach to the treatment of ashes is put in place across Scotland."