Proceeds of crime: £80m seized from Scottish criminals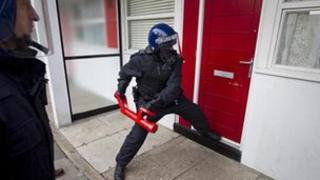 More than £80m has been recovered since Scotland's proceeds of crime laws came into force a decade ago.
In the past year alone, about £12m was netted from people involved in activities such as drug dealing, human trafficking and benefit fraud.
About £8m of the 2012/13 total was confiscated from convicted criminals, with the remainder from cash and assets seized through civil court orders.
The Crown Office said the laws had become a "powerful tool" against crime.
The latest figures were revealed by the Crown Office and provide an overview of the work of the authorities in the 10 years since the Proceeds of Crime Act (Poca) came into force.
Lindsey Miller, head of the Crown Office's serious and organised crime division (SOCD), said the £80m that had been seized could otherwise have been reinvested in criminal enterprises.
She added: "We have not become complacent in our success. Crime evolves and we must evolve with it.
"In the last year alone, we have seen successful confiscation orders against people who have participated in all types of crime, including drug dealing, selling counterfeit goods, embezzlement, human trafficking and benefit fraud.
"We will continue to use our experience and expertise to maximise disruption to criminal enterprises."
In the past financial year, more than £4.3 million was netted from those involved in the so-called "black fish" cases, relating to large-scale undeclared landings of fish in the north of Scotland.
Confiscation orders totalling £4,314,290 were made last year against a number of vessel skippers, as well as Shetland Catch Ltd and Fresh Catch Ltd.
Gangland figure
Others whose wallets were targeted included James Mangan, 54, Robert Robb, 65, and Craig Hunter, 41, members of an organised crime network involved in importing Class A drugs, which was unearthed by Strathclyde Police's Operation Trust.
The Civil Recovery Unit (CRU) will also recover £5.6m after Aberdeen-based drilling company Abbot Group Ltd accepted it had benefited from corrupt payments made in connection with a 2006 contract entered into by one of its overseas subsidiaries and an overseas oil and gas company. The money will be paid in three stages to the end of March 2015.
The ownership and structure of Abbot is said to have changed significantly since that time.
In another notable case, the home of gangland figure Kevin "Gerbil" Carroll, who was gunned down in a supermarket car park in 2010, was seized by authorities last year.
Over the last 10 years more than £50m was netted by the SOCD, which deals with the confiscation of proceeds of crime following a conviction.
The remaining £30.5m was secured by the CRU, which can recover proceeds of crime through the civil courts without the need for a criminal conviction.
Last year confiscation orders amounting to £8,025,600 were secured by the SOCD and orders to the tune of £4,123,156 were granted following work by the CRU.
Criminal networks
Solicitor General Lesley Thomson QC, who announced the figures, said: "By full use of the proceeds of crime legislation, law enforcement can strike at the very heart of criminality in Scotland to ensure that criminal networks big and small are disrupted and dismantled.
"My message is clear - if you try to make a profit from crime, the Crown will use this legislation to the maximum to take that profit from you and ensure it is put it to a much better use in communities across Scotland through the Scottish government's CashBack scheme."
The initiative, CashBack for Communities, is a scheme which takes money recovered through proceeds of crime legislation and invests it in activities and facilities for young people at risk of turning to a life of crime.
Since it began in 2007, more than £50m has been ploughed back into Scottish communities.
Justice Secretary Kenny MacAskill said: "Prosecutors and police are cracking down on organised crime and criminals have nowhere to hide.
"More than £12m has been confiscated from criminals last year, hitting them where it hurts - their wallets.
"Our communities are benefiting from the hard work of prosecutors and police putting ill-gotten gains to good use through our CashBack for Communities Programme, which invests crooks' cash in facilities and activities for our young people and their communities across the length and breadth of the country."