Further Scottish court closures considered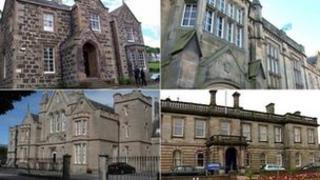 A fresh round of court closures is being considered beyond those already planned, the chief executive of the Scottish Courts Service has said.
New "justice centres" could see areas such as the Borders move all court business under one roof, Eric McQueen told Holyrood's justice committee.
The suggestion alarmed opposition politicians already trying to stop plans to shut 10 sheriff courts.
The Scottish government said it was committed to justice reforms.
Mr McQueen said feasibility studies on the new proposals would begin by the end of this month, extending to areas in Strathclyde, Fife and the Highlands.
Justice centres could bring together courts, police, social work and victim support.
In the Borders, talks will be held the week after next to seek agreement on the principle of the idea.
Improve system
"There's already a suggestion that in terms of location Galashiels would make a good central hub in the Borders area," Mr McQueen said.
"We are very committed to it as a way of trying to improve the justice system and improve delivery.
"We will be sitting down with partners in the council and justice colleagues the week after next to start scoping out the feasibility and the practicality of trying to achieve that."
The plan may involve further closures, leaving the region with just one court, he told the committee.
"That's something that we will consider as part of the feasibility study," he said.
John Lamont, the Conservative MSP for Ettrick, Roxburgh and Berwickshire, said: "Given the backlash against courts closures, it's incredible to discover that this may only be the beginning."
Mr McQueen had earlier promised the current closure plans would not lead to problems in Scotland's sheriff courts.
He said there was "no way" he would bring forward plans if the workload was going to "spiral".
Lib Dem MSP Alison McInnes said rural communities across Scotland would be worried about what the proposals could mean for local jobs, services and justice.
Labour's Lewis Macdonald, who sits on the committee, later said: "Regional justice centres are being proposed as a way of trying to satisfy SNP MSPs who are now being forced to support closures which they had previously opposed."
Ten sheriff courts and seven justice of the peace courts are currently earmarked for closure as part of a plan to save £4m-a-year in running and maintenance costs.
The list covers sheriff courts in Dornoch, Duns, Kirkcudbright, Peebles, Rothesay, Cupar, Dingwall, Arbroath, Haddington and Stonehaven, with their business transferred to other locations.
Justice of the peace courts in Annan, Irvine, Motherwell, Cumbernauld, Portree, Stornoway and Wick also face being closed.
Travel concerns
Particular concerns were raised about the transfer of business from Stonehaven to Aberdeen and from Haddington to Edinburgh.
Mr McQueen said plans were in place to speed up case handling in Aberdeen and that he was confident Haddington's work could be absorbed in the capital.
He downplayed concerns that someone in Eyemouth, in the south east, would struggle to travel by public transport more than 40 miles to Jedburgh if Duns court was closed.
"The level of business that is going through these courts is very, very small," he said.
"I accept for some people the actual travel distance to Jedburgh in the future will be difficult, and by public transport you are looking at a time approaching two hours for that public transport.
"What we can't do is provide court services to meet every single issue across the whole of Scotland."
Opposition MSPs hope to overturn the Scottish government's plan to accept the recommendations and close the courts.
Justice Secretary Kenny MacAskill has said money could "be better spent improving services and facilities at a smaller number of courts".
A spokeswoman for the Scottish government said: "Any proposals for justice centres, which could bring together a range of services including courts and social work, are a matter for the court service and are not part of the reform process currently being debated in parliament.
"The Scottish government is committed to reform of our justice system and any future proposals would need to go through the relevant processes, including through parliament if any changes were to be made to court locations."