Baby ashes commission wants to hear from bereaved parents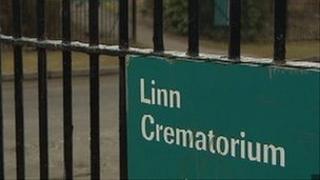 A commission investigating the baby ashes scandal wants to hear from bereaved parents, local councils and cremation staff.
However, the Infant Cremation Commission, chaired by Lord Bonomy, will not investigate individual cases as part of its review.
In December it emerged babies' ashes had been scattered in Edinburgh without the knowledge of their parents.
There have also been concerns about crematoriums in Aberdeen and Glasgow.
Lord Bonomy said the success of the commission's work was dependent upon "the engagement and support of members of the public".
He added that anyone who felt they could assist the investigation should send in their written submissions by 19 July.
The former High Court judge also confirmed what the remit of the body would be.
It included;
To review the current policies, guidance and practice in Scotland in relation to the handling of ashes following the cremation of babies and infants, and to make recommendations for improvement to ensure that parents' wishes are adhered to.
To consider existing legislation, with particular reference to the Cremation Act 1902 and the Cremation (Scotland) Regulations 1935, in order to identify gaps, inconsistencies and weaknesses and to make recommendations on what issues should be addressed in future legislation.
To consider existing practice and guidance in related fields such as the NHS and funeral services and make recommendations for improvement where necessary.
And to give guidance on the conduct of any investigations of historical practice undertaken by local authority or independent crematoria operators.
The commission will report to the Scottish government by the end of 2013.
Minister for Public Health, Michael Matheson, said: "I believe that we now have the opportunity to make some real, positive changes, and the work and recommendations of the commission will inform new legislation ensuring that these sort of incidents can never happen again."
Membership of the committee has also been made public.
They include;
John Birrell, representing NHS Bereavement Coordinators
James Blackburn, representing the National Association of Funeral Directors
Ian Kearns from Inverclyde Council
Helena MacLaren from the Miscarriage Association
Ann McMurray from SANDS UK
Tim Morris from the Institute of Cemetery and Crematoria Management
Gillian Morton, head of midwifery at NHS Forth Valley
Rick Powell from the Federation of Burial and Cremation Authorities
Garrick Smyth from Cosla
And Gavin Stevenson, chief executive of Dumfries and Galloway Council.
The commission will be distinct from the investigation being led by former Lord Advocate Dame Elish Angiolini into the disposal of baby ashes at Mortonhall Crematorium in Edinburgh.
However, it will work closely with Dame Elish and "seek to learn from her investigations".