Church of Scotland to probe rising burial costs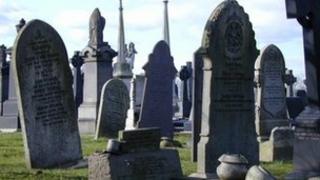 An investigation into the rising cost of funerals is to be carried out by the Church of Scotland.
The Kirk's General Assembly has been debating the issue.
It has heard claims that in one local authority area the cost of a lair has risen by more than 100% since 2009.
One minister said the price of burial plots and other associated charges was leading to so-called "funeral poverty" with vulnerable people targeted at "the most vulnerable time".
The Kirk has discussed the cost of dying before.
In 1998 a report was brought to the General Assembly by the then Church and Nation Committee, called "Debt and Dying" which encouraged everyone involved in funerals, including local authorities who own cemeteries and crematoria, to assist families to avoid needless expenditure which could led them to debt.
During the latest debate, the Reverend Bryan Kerr of Lanark said he was concerned some families may experience a delay in burying their loved ones because they can't raise the money to pay the costs of burial upfront.
He added: "We are concerned that local authorities are charging what seems to us to be exorbitant fees for burials.
"Current costs in South Lanarkshire are over £1,880 to purchase a lair and have a loved one buried within it, compared to around £490 for a cremation."
The Reverend Sarah Ross, minister of Forth St Paul's Parish Church in South Lanarkshire, asked for a Scotland-wide investigation to be carried out to find out whether what she was experiencing locally was represented across the county.
She said: "In my area, I believe that the council is targeting vulnerable people at the most vulnerable time to make money the easiest possible way.
"Burials are an important part of life in many parts of Scotland and we are concerned that people will feel they have no choice but to use crematoria more and more.
"In rural communities cemeteries are often closer than the nearest crematorium not only for the funeral service but also for family to visit afterwards as an important part of the grieving process."
Maintenance costs
South Lanarkshire Council said the decision to increase the level of bereavement charges was approved by the council in February and formed part of the council's overall efficiency programme.
In a response to concerns raised by the Kirk, the council said the sale of burial rights was "made in perpetuity" and therefore included provision for grounds maintenance and upkeep at its 55 cemeteries.
It also highlighted the ongoing cost of acquiring land for burial sites.
A spokeswoman added: "South Lanarkshire Council operates two forms of bereavement service - cremation and a traditional burial service - thus giving families a choice.
"Both of these bereavement services are essentially different in terms of how they are provided.
"Cremation incurs cost predominantly at the point of service and with few residual costs. On the other hand, traditional burial service requires a continual ground maintenance service within a cemetery which in itself carries obligation to maintain its extensive infrastructure."
The Church and Society Council of the Kirk will now conduct an investigation into this issue with a view to making recommendations on how to tackle it.
The report will be produced ahead of the 2014 General Assembly.