Tribute to Everest 'trailblazer' Bill Murray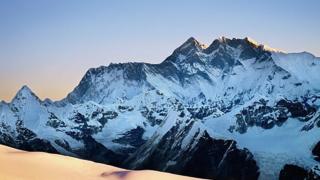 The achievements of mountaineer who helped discover the route to Everest's summit are to be recognised by MSPs, 60 years after it was first conquered.
Three years before the successful ascent, WH Bill Murray had helped negotiate the way through ice fields to the South Col of Everest.
This became part of the route taken by Sir Edmund Hillary and Tenzing Norgay when they reached the summit in 1953.
MSP Rob Gibson has lodged a motion at Holyrood to pay tribute to Mr Murray.
The Caithness, Sutherland and Ross SNP MSP said the climber and his friends chose to tackle the glacier despite the route being written off as impossible.
Mr Gibson said: "The invasion of Tibet in 1950 had cut off the northern route to Everest as used before WWII. Murray spotted the possibility from Nepal and the rest as they say is history."
'Climbed the impossible'
Mr Murray was born in Liverpool in 1913. In the 1930s he worked in the Union Bank of Scotland, in Glasgow.
During that time he joined the Junior Mountaineering Club of Scotland (JMCS), and started out climbing any available rock climbs in Glen Coe and Ben Nevis.
He did much of his most influential climbing in the period just before WWII.
However, it was in 1951, when Mr Murray along with his companions Michael Ward and Tom Bourdrillion and Eric Shipton, helped pave the way to the top of the world.
They founded an expedition to get to the South Col of Everest through the Khumbu Glacier.
In his autobiography, Mr Murray said that by securing the route they had "climbed the impossible and conquered the psychological barrier of the inaccessible".
He also said that at the top of the glacier, the route to the summit of Everest looked "eminently climbable", however it would not be done that day.
Its time would come, he said - now that a route had been found through the ice fields.
And on the 29 May 1953 Edmund Hillary and Tensing Norgay made the first successful ascent of the peak.
Later in life Murray spent time writing about his climbing in the Himalayas, as well as the Scotland's mountain landscapes. He died in 1996.
SNP MSP Mr Gibson said: "I hope that the important part that he played in finding the route to Mount Everest can be known more in his home country and around the world."