Police officer numbers in Scotland at record high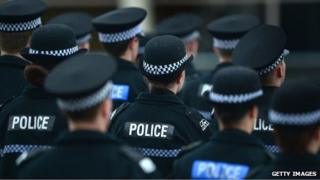 The number of police officers in Scotland had reached a record high by the time the new single force came into being in April, according to official statistics.
The quarterly figures were published by Scotland's chief statistician.
They showed that there were 17,496 officers at the end of March - 60 more than in the previous month.
The SNP government has met its target of increasing the number of officers by 1,000 since it came to power in 2007.
By contrast, police numbers in England and Wales have fallen to their lowest level since 2002.
This is the final time the figures will show the strengths of the eight regional forces, which have now been absorbed into Police Scotland.
The largest force was Strathclyde with 8,449 officers, while the smallest, Dumfries and Galloway, had 546.
Justice Secretary Kenny MacAskill said numbers had risen by 7.8% since the SNP assumed office.
"We have pledged to protect police posts and frontline police services and, although the numbers above the target will fluctuate over time, we will keep our 1,000 extra police officer promise," he said.
"This is in direct contrast to the picture in England and Wales, where police numbers have fallen to their lowest level since 2002 and are expected to drop by 16,000 in total."