Nelson Mandela: The man who re-shaped a nation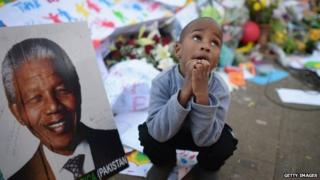 There is a small group of modern leaders who have a special claim to greatness.
It includes the Dalai Lama and Mahatma Gandhi. Some would find a place for Winston Churchill but it seems to me none has managed to match Nelson Mandela.
He has succeeded in re-shaping a nation, while at the same time, retaining the affection of its citizens and the admiration of the wider world.
I've been in Soweto.
It's now 20 years since I covered appalling township violence across Johannesburg's southern fringes.
These were the death throes of apartheid, convulsions which might have sabotaged South Africa's first non-racial elections.
Now with Mandela critically ill in hospital, I was interested to know how ordinary Sowetans regarded him.
Soweto's resistance
After all, he retired from public life nearly a decade ago.
And one third of South Africans are under 15.
It's 19 years since he was elected president and some of the promise of that first African National Congress government has surely faded.
Would there be indifference towards an old man who'd made his contribution and left the stage?
Not a bit of it. For Nelson Mandela himself I found only gratitude and good wishes.
Thembeni Sibeko, 62, lived through the dark days of Soweto's resistance to apartheid.
She remembers the 1976 uprising when thousands of schoolchildren marched in protest over the imposition of Afrikaans as the language of education.
In the confrontation which followed, armed police opened fire on the children.
A picture of one of those killed - 13-year-old Hector Pieterson - went round the world. Thembeni recalls how racial tensions intensified in Soweto but how in the Mandela era all that changed.
She said: "Nowadays we are all together. We are not separated like before. In the past when we travelled, the whites had their coaches and the blacks had theirs.
"Now we even share the public toilets, both black and white. Before, the whites didn't want to see us in their toilets.
"It was a war. Mandela changed many things. We have white friends; if you want to marry a white man or woman, you can. You can go where you like, buy a house where you like.
"Before, if you were black you had to live in Soweto. Now many black people are buying houses in town. Mandela is like Moses, leading the Israelites. No more slaves now. "
Back in the early 90s, Soweto's main hospital, Baragwanath, regularly treated those who'd been shot or stabbed in violence fomented by South Africa's security forces.
It remains a township landmark but now, just down the road, there's a new and busier destination, Mopanya mall.
It's a glass-fronted, air-conditioned emporium with shops and eateries of every kind. At the entrance a fountain creates a cool, welcoming mist.
Even 20 years ago, Soweto had few shops.
Role model
There were bottle stores and funeral directors and street traders.
Outside the mall, shoppers I spoke to agreed South Africa was transformed.
One woman told me: "We are now free. I am sad because Madiba is sick and for me I believe he was supposed to live a hundred years because he is an icon to us.
"To me, he is my role model and I love him so much. I wish him a speedy recovery and a hundred years."
The next person I stopped, a man in his 20s, described how the old racial divisions had been swept away.
He said: "Mandela changed the minds of people. Most people thought a black man could not understand the reins of power. He made a huge change in our lives.
"I am a coloured African and I am proud. I'm from the Khoi-Khoi people millions of years ago. I say thank you to Tata Mandela for everything he has done."
Nelson Mandela's recurrent illness - it's his fourth spell in hospital since December - has caused South Africans to look back on the social and political revolution he helped to drive.
In Vilakazi Street, the house where Mandela lived before he was imprisoned has become a place of pilgrimage.
Parents bring their children; tour guides organise trips for foreign visitors and over the last few days, there've been prayer meetings, revolutionary singing, and even marching bands - all part of the same urge to send a message to Mandela in his hospital bed.
He's not well enough to reply but in his final address to parliament in Cape Town some years ago he pointed out the way ahead.
The Father of the Nation told South Africans: "We must continue our efforts to turn our hopes into reality. The long walk continues."