Glasgow and Dundee scientists award for Lancet study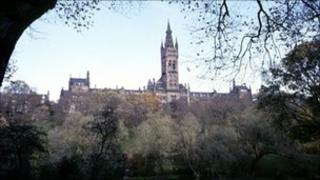 Scientists from two Scottish universities have won an award for writing the best research paper of the year.
The academics from the universities of Dundee and Glasgow picked up the accolade from the Royal College of General Practitioners (RCGP).
The research paper was published in the medical journal, The Lancet, in May 2012.
It focussed on how many people have two or more medical conditions in Scotland.
The paper was entitled "Epidemiology of multimorbidity and implications for health care, research and medical education: a cross-sectional study".
Almost a quarter of patients had two or more conditions, and therefore had multimorbidity.
The paper revealed that people living in the most deprived areas developed multimorbidity 10-15 years earlier than people living in the most affluent, with socioeconomic deprivation particularly associated with the presence of combined physical and mental health disorders.
The study, led by Prof Bruce Guthrie from the University of Dundee, is part of an on-going national programme of research established by the Scottish School of Primary Care and led by Prof Stewart Mercer at the University of Glasgow.
Medical practice
The study authors were Bruce Guthrie, Karen Barnett and Michael Norbury from Dundee and Stewart Mercer, Sally Wyke and Graham Watt from Glasgow.
The award was presented at a ceremony in Nottingham.
Prof Mercer said: "The whole team at Glasgow and Dundee is delighted."
Dr Richard Horton, the Editor of the Lancet, said: "Their important findings point to a future medical practice worldwide that demands a recommitment to integrated, high-quality, comprehensive, and continuous care. That is, the very best of general practice."
The chair of the National Institute for Health and Care Excellence (NICE), Prof David Haslam, said: "Although this paper focuses on the situation in Scotland, the implications are extremely relevant to the rest of the UK."
The award by the RCGP gives recognition to an individual or group of researchers who have undertaken and published an exceptional piece of research relating to general practice or primary care. The paper won top prize in the primary care category and top prize overall.