Edinburgh University award for Dame Stephanie Shirley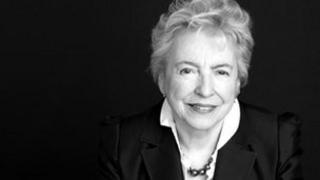 A businesswoman who has given away much of the £150m fortune to good causes is to be honoured by the University of Edinburgh.
IT entrepreneur Dame Stephanie 'Steve' Shirley donated £1m to autism research in memory of her dead son.
The philanthropist made the donation to the university's Patrick Wild Centre which is dedicated to understanding the disorder.
The university is to present her with a benefactor award.
Dame Shirley's son Giles had autism and epilepsy and died at the age of 35.
Her donation, in his memory, is being used to create a state-of-the-art imaging suite which will enable scientists to study autism.
Born in Dortmund in 1933, her Jewish father was a respected judge until stripped of his position by the Nazis. Her mother was Christian.
Nazi refugee
Dame Stephanie arrived in the UK at the age of five to escape Nazi Europe as an unaccompanied child refugee weeks before the start of World War II.
She was fostered by a Christian family and began work at the Post Office before she set up a technology company with just £6. To do so she had to secure the permission of her husband Derek before she could open a bank account.
She adopted the name "Steve" to help her in the male-dominated business environment and would bid for contracts using a man's name to overcome sexist attitudes towards women running their own businesses.
She said: "No organisation replied to my letters offering IT services when I signed them Stephanie, so I used the name Steve, and the difference was remarkable.
"There was no expectation of women in professions, and when I arrived for a meeting there was a double-take. It made me memorable when I bid for a job."
She employed mainly women and has told of how she suffered harassment during her career.
She said: "I remember one occasion in the 70s when I was trying to sell a multi-million-pound IT contract to a Tory minister of state, who I won't name, and he pinched my bottom while I was talking. I got the job. After that, I always dressed like an honorary man in a grey suit and white blouse."
When her company peaked in the 1980s, she was worth £150m.
Since 1993 she has dedicated her efforts to philanthropic pursuits and after selling her company has given away at least she has given away at least £65m.
Her Shirley Foundation is now one of the top grant-giving bodies in the UK.
'Exciting breakthroughs'
The benefactor award recognises significant contributions to the university and will be presented during a graduation ceremony at the institution's McEwan Hall on Saturday.
She said: "There's only so much you can spend, and money that isn't working has an obscenity about it.
"I never just chuck money at things. I get involved. About 75% of my donations go to autistic organisations. I am determined to find out the cause of autism by 2014. I gave £1m to the University of Edinburgh, which made a couple of exciting breakthroughs."
The Shirley Foundation is one of the top 50 grant-giving foundations in Britain.
Dame Stephanie is the president and founder of Autistica, a charity that raises funds for medical research, and has also set up Prior's Court School, an independent special school for students with autism. Most of her other donations go to IT projects in the voluntary sector.
She and husband Derek married in December 1959, and their son Giles was born four years later.
At the age of two he became unmanageable and within a week lost his ability to speak. He never talked again and was diagnosed severely autistic.
Aged 12, Giles was placed in an institution. He never lived at home again, and died on 17 October 1998 from a fit that was a consequence of his autism.
Dame Shirley said: "His brain has been donated for research to a brain bank at Oxford University, that I funded. I will never recover from his loss, but I have learnt to live without him and his need of me."
She added: "The more money I give away, the happier I am."
She was appointed OBE in the 1980 Queen's Birthday Honours and promoted to Dame Commander (DBE) in the New Year Honours, 2000.
In February 2013 she was assessed as one of the 100 most powerful women in the United Kingdom by Woman's Hour on BBC Radio 4.