Scotland enjoys hottest day of year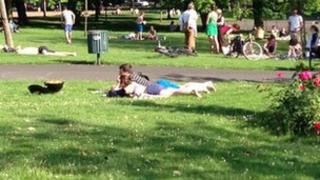 Scotland has enjoyed its warmest day of the year so far.
Temperatures in Glasgow reached a high of 28C, only slightly ahead of many other parts of the country.
That beats the 26C recorded in Fyvie, Aberdeenshire, on Saturday, the previous highest temperature recorded in 2013.
The good weather is expected to continue throughout the week with temperatures well above 20C likely to be repeated.
Tuesday will remain warm, although temperatures are expected to cool slightly on Wednesday before climbing again on Thursday and Friday.