Increase in Scottish measles cases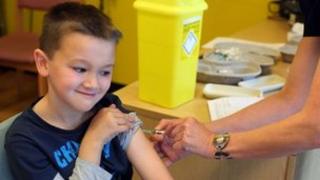 The number of measles cases recorded in Scotland has increased over the past year, new figures have confirmed.
Health Protection Scotland said there were 121 suspected cases of the disease in the first 24 weeks of 2013.
Of these, 48 were laboratory confirmed cases and a further three were classed as probable.
In the same period last year there were 44 suspected cases, eight of which were confirmed while another nine were probable.
Health Protection Scotland said all but four of the confirmed cases this year had been reported in the current quarter.
Of these 44 confirmed cases, four were likely to have been acquired overseas and the remaining 40 involved exposure in the UK only.
There were three clusters of cases, the agency said.
One cluster of 19 laboratory confirmed and one probable case occurred in the traveller community in Fife and Tayside, and is ongoing.
A second cluster of six confirmed and one probable case was in a healthcare setting, and a further cluster of two confirmed and one probable case was in a school.
In addition, two cases were linked with major outbreaks in Wales and north-east England, HPS said.
The remaining eleven cases were sporadic with no known exposure.
The majority of cases were in unvaccinated or under-immunised people - those who have not received the recommended two doses of MMR vaccine.
Discredited concerns
Scottish Conservative health spokesman Jackson Carlaw said: "These figures are a timely warning that we cannot be complacent in Scotland about the prospect of a large-scale measles outbreak.
"A six-fold increase in the number of confirmed cases in just 12 months is a major concern.
"The situation in Wales and parts of England show that if you don't a grip of the disease early on it can quickly spread and, in some cases, have fatal consequences.
"While it's reassuring the chief medical officer in Scotland has launched a programme to vaccinate those children who have not received two doses of MMR, it appears this jump in cases has occurred under the radar."
In April, it was announced that older children not protected against measles in Scotland would be offered the chance to get vaccinated in the wake of a huge rise in the number of cases in England and Wales.
Problems have been caused by the number of children aged over 10 not immunised after the now discredited concerns about MMR vaccination and autism.
Scotland's MMR uptake has been high, but the chief medical officer has urged parents to get children immunised if they have not already been.
A spokeswoman for the Scottish government said: "These figures illustrate the value of being immunised against common diseases. Where immunisation uptake declines - as it did with MMR a number of years ago - there is a risk that the incidence of these diseases will increase, as has been the case recently across the UK with measles.
"Thankfully, the swift action taken by health boards in Scotland when immunisation rates dipped temporarily have helped to ensure that the number of measles cases has not reached the proportions seen elsewhere in the UK."
A major outbreak of the disease which started in Wales in November saw one person die and a further 1,200 fall ill.
Across the whole of England and Wales there were 2,030 cases last year - the highest figure in 18 years.