Scottish tourism industry picks up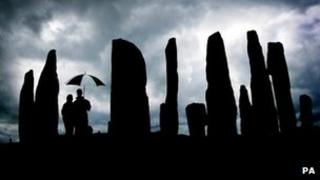 Scottish tourism picked up in the first part of this year, according to official figures.
The total number of foreign and domestic visits to Scotland increased by 7% compared with the same period last year.
The overall amount they spent also increased by 6%.
Spending by overseas visitors, according to the Office of National Statistics, was up by 22%, but the number of visits was down by 9%.
The number of domestic visits was up 10% on the start of 2012, and their spending was up, but only slightly.
However, taken over the whole of last year, including a disappointing summer season, both visitor numbers and spending were down.
VisitScotland's chairman, Mike Cantlay said the industry was "back on the front foot" after "an unquestionably challenging year".
The industry enjoyed a long winter sports season, and while visits from North America were down 5% over the year, and continental Europe fell by 11%, visits from emerging markets such as India are rising.
The tourism development agency is starting an online and social marketing campaign linked to the network broadcast, starting tonight, of BBC Scotland's nature programmes about the Hebrides.
It is also spending £400,000 on TV adverts being shown on NBC in the USA, and on Sky Sports in the UK, showcasing Scottish golf and linked to the Scottish Open at Castle Stuart.
Mr Cantlay said: "In six months time, Scotland will embark on a year like no other. In 2014, we will welcome the world to our shores with the Commonwealth Games, Ryder Cup and Homecoming. We must keep up the momentum achieved in 2013".
He added: "Hebrides: Islands on the Edge has provided a wonderful boost for our attempts to promote the region and Scotland during this, the Year of Natural Scotland 2013.
"With the UK-wide broadcast, coupled with our online marketing push, we hope that millions of people will be inspired to see the magical landscapes and incredible wildlife for themselves."