New Catholic archbishop to be named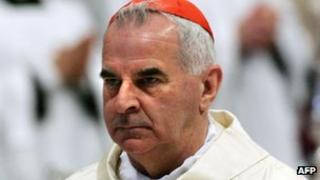 A successor to the disgraced Cardinal Keith O'Brien as the archbishop of St Andrews and Edinburgh is due to be appointed.
Cardinal O'Brien resigned in February after he admitted that his sexual conduct had "fallen beneath the standards" expected of him.
The Catholic Church will unveil the new archbishop elect in Edinburgh.
It is the first of several new appointments expected this summer.
Of the eight diocese in Scotland, four are currently without a bishop and a fifth is due to retire.
Cardinal O'Brien was Britain's most senior Roman Catholic cleric until he resigned after three priests and a former priest alleged improper conduct in the 1980s.
He has since left Scotland for "spiritual renewal, prayer and penance".