'Nice way code' to boost road safety in Scotland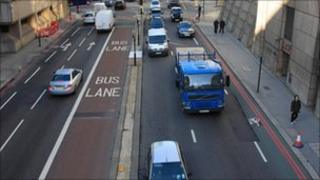 A new safety code has been launched in an attempt to create a "culture of tolerance" on Scotland's roads.
The Nice Way Code urges drivers, cyclists and pedestrians to be more considerate of each other on the roads.
The campaign launched by Transport Minister Keith Brown called for people to make small changes to increase road safety.
It is hoped the initiative will help improve the experience of driving, cycling or walking for everyone.
Drivers are asked to give cyclists more space and overtake them with care, as well as looking out for pedestrians crossing,
Cyclists are asked to obey red lights and not cycle on the pavement.
Television adverts
Pedestrians are included too, with messages about not trying to cross the road while looking at a mobile phone.
The campaign, funded by Transport Scotland and initiated by Cycling Scotland, will use television adverts accompanied by a poster campaign to get its message across to the public.
Mr Brown said: "The Nice Way Code campaign seeks to build a culture of tolerance and patience between cyclists, motorists, pedestrians and all other road users across Scotland.
"While the numbers of road casualties in Scotland are at their lowest ever level, there is still simply no room for complacency.
"I believe this campaign will play its part in making Scotland's roads safer for all users in the future and raise awareness that road safety really is everyone's responsibility."
Supt Iain Murray, head of road policing for Police Scotland, said: "We have seen in recent weeks the tragic consequences of cyclists and pedestrians being involved in road traffic crashes and incidents and there is a responsibility on all road users to be prepared, act responsibly and be aware of others around them at all times.
"Police Scotland is committed to keeping people safe on Scotland's roads and will continue to support campaigns and initiatives which help meet that commitment."
'Black spots'
But campaign group Pedal on Parliament (POP) said the initiative was a waste of money.
Sally Hinchcliffe, an organiser of POP, said: "While we don't disagree that behaviour needs to improve between road users, simply asking us all to be nice to one another without backing it up with real changes and enforcement is a waste of taxpayers' money.
"Most drivers don't set out to harm anyone, whether they're cyclists or not.
"It's the way our roads are designed and policed that put drivers and people on bikes into conflict.
"We'd rather see that money spent on cutting speeds, or improving known accident black spots. It's a drop in the ocean, but it would be a start."