Former Fort Augustus Abbey pupil tells of 'violent' whipping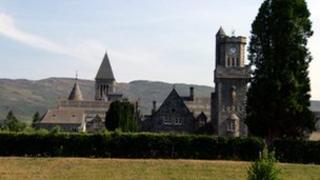 Fresh claims of abuse at Fort Augustus Abbey Catholic boarding school in the Highlands have emerged following a BBC investigation.
Another former pupil at the school has told the BBC he was "violently abused" and tortured by monks there.
Tim Coppin said he studied at Fort Augustus from 1960 until 1965.
"The main thing was whipping by the teachers, by the monks themselves," he told BBC Radio Scotland, in an interview to be broadcast on Newsdrive.
Mr Coppin, who now lives in Brisbane, Australia, said the monks "had their system and if you fell out of line you got whipped".
"Probably the worst one was you were naked and you were on the end of the bed, you were knelt over the end of the bed and you had anything from 10 to 15 strokes," he said.
'Absolute disgust'
Mr Coppin recalled one occasion when at least 12 boys in a dormitory were "getting a hiding for something... blood was drawn and after it was over the monk left and then another one rushed through the door because we were talking amongst ourselves".
He said the second monk gave them "six on each hand".
"So there we were standing naked, blood dripping from the legs (and) back and having to take this as well. And this fellow must have been waiting outside for his opportunity. I'll never forget that."
Although he did not witness sexual abuse at the school Mr Coppin claimed that pupils knew it was happening and knew who was carrying it out. "We knew who they were," he said.
The programme, BBC Scotland Investigates: Sins of Our Fathers, was broadcast on Monday.
It contained a series of allegations made by pupils at the Fort Augustus school, and its preparatory school in East Lothian.
It also revealed how the allegations had been covered up by the Benedictine order which ran the school.
Police Scotland has confirmed it is investigating allegations of abuse.