Heavy rock Coriolanus turns up volume at Edinburgh Festival
21 August 2013

From the section

Scotland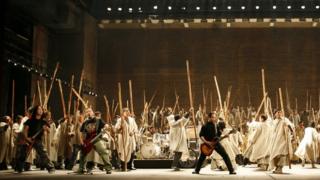 If there is music in a production of Shakespeare it is usually a lute not a heavy metal band.
But a Chinese version of The Tragedy of Coriolanus, which is being staged at the Edinburgh International Festival, is turning it up to 11, with two live rock outfits creating the sound and fury of the play's action.
Coriolanus, the story of the heroic Roman general who joins forces with the enemy after being rejected by the "common people", is one of Shakespeare's lesser performed plays.
General Cauis Martuis returns to Rome after conquering the city of Corioles.
But after first swooning over their hero, the citizens turn against the man they have named Coriolanus when the fearless fighter refuses to court the popular opinion of the masses as he runs for political office.
Coriolanus is viewed as arrogant and aloof by the people but instead of bending to their pressure he vows to destroy Rome by mounting an attack along with its enemies.
The Beijing People's Art Theatre, which performs the drama in Mandarin Chinese, with English supertitles, uses the heavy metal bands to portray the ferocity of battle and the rebellion scenes.
The lead role is played by one of China's most famous stage actors, Pu Cunxin.
He told BBC Scotland, through a translator: "Shakespeare is a great playwright and even 400 years ago, he was able to write things which said a lot about the nature of politics and society today.
"The staging involves a lot of humour and activity. It is quite a humorous performance."
The idea for the production comes from Lin Zhaohua, often described as China's most controversial theatre director.
The 77-year-old has been in the vanguard of innovative Chinese drama for four decades but is not someone you would automatically expect to be an expert on rock music.
The director says he wanted the loud and aggressive music to match the action on stage.
Different sounds
He listened to some German rock bands but the effect of recorded music was "not satisfactory" so he decided the music had to be live.
His set designer recommended he should go to some live shows in pubs in Beijing and that is where they found rock groups Miserable Faith and Suffocated, who will create the battle of the bands on stage in Edinburgh.
The two bands create different sounds, with one offering hardcore metal while the other creates a more expansive progressive rock vibe.
They come out from the wings of the stage to push the action forward as the 100-strong cast creates the riots and battles of Shakespeare's drama.
Pu Cunxin says the music helps to express the hatred and danger within society.
Lin Zhaohua says Coriolanus is seldom performed in Europe and he hopes his production shows the "Orient can perform Shakespeare as well as the Royal Shakespeare Company".
The Tragedy of Coriolanus is at the Edinburgh Playhouse on 21 August.