Figures show a slight fall in methadone prescriptions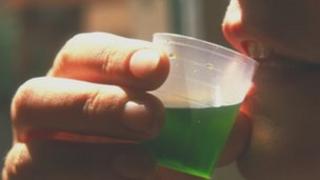 The number of drug addicts prescribed the heroin substitute methadone has fallen slightly.
Figures from NHS Scotland said there were 23.8 million daily doses prescribed in 2012/13 - down 1.4 million from the previous year.
Last month the first major review of Scotland's methadone programme was published.
It said it should continue as one of a range of options to treat drug addiction.
According to the Scottish Public Health Observatory (ScotPHO) alternatives to methadone, including buprenorphine and naloxone were not widely prescribed.
The drugs are generically known as suboxone, and in 2012/13 there were 871,073 daily doses prescribed, compared with 621,462 in the previous 12 months.
Across Scotland there are an estimated 26,200 patients consulting their GP for drug misuse.
Those with drug misuse problems visited their GP on average 8.7 times a year, compared with the figure for the general population of four annual visits.
ScotPHO also said 72% of those arriving at Scotland's jails tested positive for drugs - 31% for opiates.
Almost a quarter (23%) tested positive for illegal drugs on liberation - 4% for opiates.