Concern over rise in Scottish FoI failures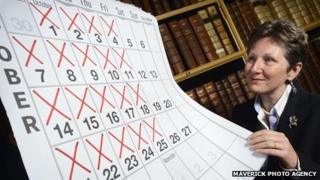 An increasing number of public bodies are failing to respond to Freedom of Information requests, the Scottish Information Commissioner has reported.
In her annual report, Rosemary Agnew said there had been a 14% rise in appeals to her office in 2012/13.
She said 27% of those appeals related to a failure by the public authority to respond - the highest proportion of such appeals to date.
Public authorities are legally obliged to respond within 20 working days.
The publication of the report coincides with new research which reveals that only 49% of the Scottish public are confident they would receive an FoI response within 20 working days, with only 10% stating that they would be "very confident" of a response.
'Increases costs'
Ms Agnew said: "These findings concern me. Eight years on from the introduction of FoI, we would expect authorities to be more effective at handling requests, not less so.
"When they don't respond, authorities fail to respect people's legal rights to information: information which can be extremely important to individuals and communities. By contrast, authorities that perform well take a customer-focused approach, respond promptly and engage with requesters."
She added: "A failure to respond can also harm public perception of FoI. While many FoI requests are answered on time and a lot of information is provided, the research findings reveal that this is certainly not the public's perception."
She said Scottish public authorities that were falling short should take steps to address their performance as "an immediate priority".
"In doing so, they should also remember that failing to respond doesn't make requests go away, but just creates unnecessary extra work and increases costs," she said.
"Failure to respond generates complaints, review requests, and appeals to my office, and damages a public authority's reputation. The most efficient option is to get it right first time."
The commissioner announced that she is planning to lay a special report for the Scottish Parliament exploring such failures in the spring.
Her report also revealed that:
The number of FOI appeals increased by 14% over the last year, to 594 appeals
564 cases were closed, a 9% increase on the previous year
The commissioner found completely in favour of requesters in 37% of cases and completely in favour of authorities in a further 37%. The remainder were partially upheld
60% of appeals were made by members of the public
43% of appeals related to local government bodies and 31% related to Scottish ministers or the Scottish Parliament
Inquiries to the commissioner rose by 8% last year.
The report also contained examples of how FoIs have been used by the Scottish public over the last year, seeking a wide range of information on issues relating to housing, health, transport, education and the environment.
Discussing the rise in appeals, Ms Agnew said: "Our case volumes have continued to rise, with a 14% rise over the last year and a 49% increase in the last five years.
"I'm happy to report that we've been able to manage these increases through a combination of hard work and a considered review of how we conduct our business. As a result, we have closed more cases than ever and reduced the time we take to investigate appeals.
"However, I am concerned about how sustainable this position will be in the longer term. These advances have been achieved against a backdrop of decreasing resources, and if volumes continue to rise, it will pose significant challenges to my ability to enforce FoI effectively."
Information sharing
A Scottish government spokeswoman said: "Scotland has the most robust freedom of information regime in the UK, with a transparency system that sets an example for other nations to aspire to.
"In 2012 we received over 1,900 FoI requests - the highest number on record - and we are on course to receive even more in 2013. We strive to respond on time to all cases, and the number of technical appeals we receive has decreased since the end of March 2013."
She added: "Our commitment to proactive publication and sharing of information with the public is enshrined in legislation."