Get weaving: Forgotten skill kept alive by Forfar project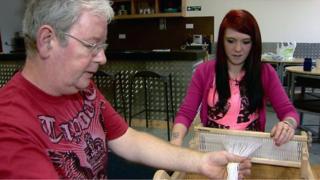 Thousands of people used to work in the linen and jute mills of Angus and Dundee but today it is largely consigned to the history books. Now a youth project in Forfar is introducing the almost forgotten skill of weaving to young people - and it is having the unexpected effect of improving community relations.
From the 19th century thousands of men, women and children were employed in weaving - on hand looms and then in the factories.
At its height, in the late 19th century, Dundee boasted about 60 jute mills and more than 50,000 workers were employed by the city's jute industry.
Today weaving has almost completely disappeared.
But this project is about much more than just remembering how it used to be, according to Dawn Mullady, the project worker at The Pitstop in Forfar.
She says. "We have many generations working together on the project, which is unbelievably fantastic.
"The joy of the project is that young people's eyes light up when the older generation come in to teach.
"The older generation's eyes light up when they see the enthusiasm of the young people, so it's a win-win situation and it's a fantastic way of documenting what Forfar weavers' lifestyles were."
Twenty-one-year-old Adele Douglas learns all about the intricacies of weaving at the Pitstop project.
She says it is "magical".
"I look at the older generation and think 'were you a weaver?," she says.
"Was that woman a weaver or does she walk like a weaver or talk like a weaver?
"I always think of that because it's them that made the history with weaving, we're just learning.
"We could pass it down to our kids and our kids could probably pass it down to their kids. Yeah, I always think of the older generation differently now."
Rab McMonagle has worked in the weaving industry for 34 years.
He says: "When I started I was doing jute. I worked in the finishing department. I worked in the weaving department and then I went back to the finishing department."
He now also helps teach the young people at The Pitstop project.
Ron Scrimgeour is a member of the Nine Trades of Dundee.
He is keen to keep the weaving heritage alive through work with projects like this.
He says: "The whole area - Angus and Dundee - had thousands and thousands of people working in the mills, and, largely because it was considered an inferior trade, people kind of kept quiet about it.
"Whereas people are now discovering that their grannies were weavers or spinners or winders and they're taking a pride in that.
"And that's actually a major achievement for the weaver craft, that's one of the things that we like to do, is to keep the traditions and the heritage going."