Most organ donors in Scotland not on register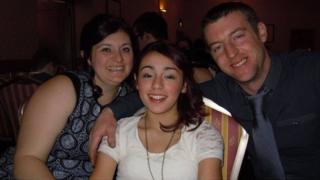 Almost two-thirds of organ donors in Scotland in the last five years were not on the organ donor register at the time of their death, new figures show.
The statistics were released to coincide with a campaign to encourage more Scots to make their wishes known to relatives.
Television and radio adverts will encourage people to have a "wee chat" with their family.
About 41% of Scots are on the register - higher than the UK average of 31%.
According to the figures, 62% of donors in Scotland over the last five years were not on the NHS Organ Donor Register when they died.
The new campaign aims to change that and increase the number of people who sign up.
'Something positive'
Minister for Public Health Michael Matheson said: "The reality is that more than 600 people in Scotland are waiting for a life-saving transplant and across the UK three people die every day because they don't get the organ they need in time.
"This campaign has two simple yet equally important messages - join the register and have a chat about organ donation with your family and loved ones."
Mother-of-one Jill Polanski, whose husband Matt, 30, died after a motorbike accident at Knockhill in August this year, has given her backing to the campaign.
She was able to honour his wishes to be an organ donor - a hugely difficult decision she said was made easier by a discussion they had three years earlier.
Mrs Polanski, 32, from Cardenden, said: "When the accident happened, I was in the pit lane with our daughter Bethany who was warming up to race that day as well. As soon as I heard they'd sent for an air ambulance, I knew how serious it was."
Her husband was initially treated by the Knockhill medics before being admitted to Ninewells Hospital in Dundee where he later died.
Mrs Polanski and her 13-year-old daughter, surrounded by Mr Polanski's family and friends, were later approached about organ donation.
She said: "I remember feeling very numb as the accident had only happened about three hours beforehand. But I knew Matt's wishes and agreed instantly to donate all his organs, apart from his eyes. His family just looked at me, but I was able to tell them that I knew that's what he wanted."
Mr Polanski's heart saved the life of a woman, his liver went to a man, his kidney and pancreas to a woman and a teenage boy received his kidney.
Mrs Polanski said: "It was one of the hardest things we've ever had to do, but I'm so grateful that something positive has come out of Matt's death.
"I can see it from the recipients' point of view and how they must feel knowing someone died to help them, but I'm planning to write to them down the line to let them know the comfort it has brought us as a family."