Living wage call for Scottish college and university staff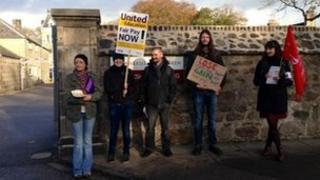 Hundreds of staff at Scottish colleges and universities are not being paid a living wage, according to unions.
NUS Scotland and Unison said several institutions have staff earning what they described as "poverty pay". They want all staff paid at least £7.65 an hour.
Universities said they were committed to offering their employees an attractive employment package and wage.
The two unions made a series of Freedom of Information (FoI) requests.
The living wage, promoted by the Living Wage Foundation, is an informal benchmark based on the amount an individual needs to earn to cover the basic costs of living. It is distinct from the legally-binding minimum wage.
Across the UK, the TUC estimates the Treasury would save £3.3bn if all workers were paid a living wage. However, many employers argue they could not afford to pay all staff at that level.
The unions said a minimum of 483 people employed directly by universities and 226 people employed by colleges in Scotland are paid less than the living wage.
Living Wage Employers
At the time of the unions' FoI requests the living wage was £7.45 an hour - it has since increased by 20p to £7.65 - while the legally-binding minimum wage increased last month to £6.31 an hour.
However, some institutions were not paying far below the living wage. The University of the West of Scotland, for example, had 178 staff on less than the living wage - but nobody was earning below £7.39 an hour.
Just three institutions had workers earning less than £7 an hour and only Abertay University appeared to have any staff earning the minimum wage.
More than 400 companies and organisations across the UK are now officially accredited Living Wage Employers, and the Scottish government recently announced their support for the Living Wage accreditation scheme in Scotland.
NUS Scotland and Unison Scotland welcomed that decision and are now calling on every university and college in Scotland to become accredited Living Wage employers.
Sinead Wylie, NUS Scotland vice president, said: "It's important to recognise the college and universities throughout Scotland that pay their employees a living wage.
"However, as we saw through recent strike action, far too many staff at Scotland's universities and colleges do not receive a fair day's pay for a fair day's work.
"We need to ensure that we eliminate poverty pay rates at our colleges and universities. Higher wages are fed back into our economy and represent a significant saving to taxpayers, who otherwise subsidise low-paying employers through in-work benefits and tax credits."
Dave Watson, Unison Scotland organiser, said: "Universities and colleges should be beacons of excellence, not the home of poverty pay.
"Almost all the public sector in Scotland has recognised the value of the Scottish Living Wage - colleges and universities have an important role in promoting best practice into the wider community."
Pay and conditions at universities are set across the UK by the Universities and Colleges Employers Association. Pay varies across Scotland's colleges, although there are moves towards returning to a national pay structure.
Employment benefits
Nicola Dandridge, chief executive of Universities UK said: "Universities are committed to offering their employees an attractive employment package and wage.
"Universities have few problems recruiting and retaining staff at the lower levels of the pay spine. This is in large part due to the excellent benefits package offered, particularly when compared with other local employers.
"The Living Wage is an important benchmark but does not recognise the full breadth of employment benefits enjoyed by staff in the higher education sector. Benefits include a generous pension scheme, excellent sickness and maternity pay and above average holiday entitlement."
Two weeks ago thousands of university staff across the UK took a day's strike action in a row over pay.
It centres around the trade unions' refusal to accept a 1% pay offer, which they say contributes to a real-terms pay cut of 13% since 2008.
The University and College Union (UCU) said the report was a timely reminder of the discrepancies between the pay of those at the top and the rest of staff in universities.
UCU's Scotland Official, Mary Senior, said: "Staff in our universities have suffered real-terms pay cuts year after year, while those at the top have continued to enjoy rises.
"This report exposes the unfairness of pay rises for university principals when some staff are not even paid the living wage.
"We hope the employers' representatives will take note of this report and understand the anger staff feel at the pay injustices in higher education."