Typhoon Haiyan: Scottish people urged to support DEC appeal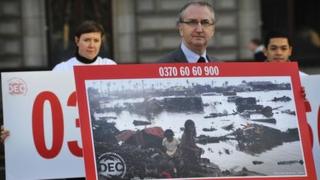 People in Scotland are being urged to back an appeal by the Disasters Emergency Committee (DEC) to help those affected by Typhoon Haiyan.
The DEC said a huge cash injection was needed to help provide food and supplies.
The typhoon hit the eastern seaboard of the Philippines on Friday, moving across its central islands and exiting into the South China Sea.
At least 10,000 people are thought to have been killed by the storm.
Scotland's Culture and External Affairs Secretary Fiona Hyslop said the Scottish government would donate £600,000 to the appeal.
Speaking in the Scottish Parliament, she urged Scots to "dig deep" to help.
She said: "This is one of the biggest disasters in many years - and indeed is reminiscent of the 2004 Boxing Day tsunami in terms of the scale of the devastation caused.
"We are in touch with Scotland's aid agencies who inform us that with reports still coming in from more remote areas that the numbers of people affected may well rise further.
"The Scottish government funding will help our aid agencies support those affected including through the supply of clean water and medical supplies - essential if we are to avoid disease getting hold and making a tragic situation even worse."
The UN says more than 11 million people are believed to have been affected, with about 673,000 displaced.
Catastrophic damage was caused by winds that gusted up to 170mph and a storm surge that raised sea waters by 20ft.
Attempts to get food and water to those affected are being hampered by impassable roads and airports being out of action.
Norman McKinley, chairman of the DEC Philippines Typhoon Appeal in Scotland, said: "The destruction in Tacloban city, on the east coast, is said to be reminiscent of the Boxing Day tsunami.
"There is currently no food, water or electricity. We can only imagine how much worse the situation will be for families living in towns and remote villages.
"DEC members are doing all they can to get aid through but they need a huge injection of funds in order to do so. The priorities are getting food, water and shelter to people in desperate need."